Sí, si es contigo / Yes, If It's With You (Paperback)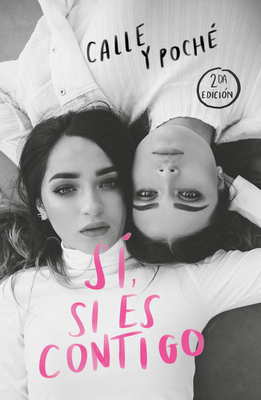 $25.34

Likely 2-7 Business Days; Some Exceptions
Description
---
Sí, si es contigo es una historia de amor (im)posible.

Sí, si es contigo es una novela de amor escrita por dos de las Youtubers más famosas, con más de seis millones de seguidores en su canal de YouTube.

Una novela sobre el primer amor, y todo lo doloroso y maravilloso que este implica.

ENGLISH DESCRIPTION

Calle and Poché are the fastest-growing YouTubers on Latin American social media in recent years.  

This is their first book.
 
Yes, If It's With You is an epistolary novel that tells the thrilling love story of two YouTubers. Through letters, chats, and entries in their diaries, the protagonists tell intimate details of their unexpected relationship, their past, their fears, their passions, and the thrilling adventure that leads them to become social media celebrities and achieve monumental success.
About the Author
---
Daniela Calle, junto a María José Garzón, forman Calle & Poché, una pareja de creadoras de contenido digital. Su formación artística inició en la compañía de teatro musical más importante de Colombia. Compartir la misma visión fue lo que las llevó a crear una propuesta de contenido variado y de calidad que ha marcado la diferencia en el mundo digital.

A pesar de que su carrera inició hace tan solo tres años, han recibido los premios más importantes de la industria, entre ellos, el MTV MIAW, el Eliot Award, el Tú Award y el Produ Award, como Creadoras Revelación del Año, y la nominación como Mejores Creadoras Internacionales en los Streamy Awards, los premios más importantes del mundo digital. Actualmente están nominadas en la categoría Top 10 LGTB+ Online Influencers en los British LGTB Awards, por ser una importante representación LGTB+ en los medios de comunicación y por buscar, por medio de su contenido, la protección de los derechos de la comunidad. También han tenido la oportunidad de trabajar con marcas destacadas como Disney Channel, Adidas, H&M y Faber-Castell.

Sí, si es contigo es su primer libro.