The Stevia Solution Cookbook: Satisfy Your Sweet Tooth with the No-Calories, No-Carb, No-Chemical, All-Natural, Healthy Sweetener (Paperback)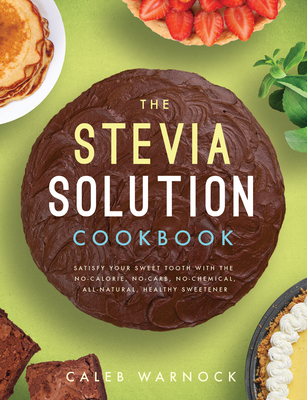 Not Currently Available- Email for More Information
Description
---
Improve your health with stevia—the world's only all-natural, calorie-free, non-glycemic herbal sweetener. Stevia is a leafy green herb with a strong, sugary flavor. Most people don't believe it until they taste it. For centuries, the Guarani tribes of Paraguay have grown and loved these candy-flavored leaves, benefiting daily from the natural health stevia provides. They call it kaa-jhee, which means "honey leaf."
The Stevia Solution Cookbook provides information on how to cultivate, grow, purchase, and use stevia in your everyday cooking and includes more than sixty full-color images and recipes.
The health benefits of stevia are diverse:
Stevia has no calories, chemicals, or carbs.
Stevia protects against type-II diabetes.
Stevia is an anti-inflammatory.
Stevia helps prevent cavities.
If you are looking for an alternative to today's high-caloric, inflammatory, and health-debilitating sweeteners, The Stevia Solution Cookbook is for you!
About the Author
---
Caleb Warnock is the popular author of Forgotten Skills of Self-Sufficiency, The Art of Baking with Natural Yeast, Backyard Winter Gardening For All Climates, More Forgotten Skills, Trouble's On The Menu, and the Backyard Renaissance Collection. He is the owner of SeedRenaissance.com and blogs at CalebWarnock.blogspot.com, where you will find a link to join his email list to learn more about forgotten skills. 
Praise For…
---
"Stevia is the only all-natural, calorie-free, non-glycemic herbal sweetener. Stevia is a leafy green herb with a strong, sugary flavor. Most people don't believe it until they taste it. The health benefits of Stevia are diverse. Stevia has no calories, chemicals, or carbs. Stevia protects against type-II diabetes. Stevia is an anti-inflammatory. Stevia helps prevent cavities. The Stevia Solution Cookbook provides practical information on how to cultivate, grow, purchase, and use stevia in everyday cooking and includes more than 60 full-color images and recipes. The recipes range from Perfect Sugar-Free Jam; Chocolate Chip Snow Cookies; Raspberry Chocolate Pudding Cake; and Homemade Vanilla Yogurt; to Stevia Lavender Chamomile Tea; Quick Peanut Butter Stevia Sandwiches; Sweet healthy Powdered Sugar Substitute; and Rich Chocolate Frosting. If you are looking for an alternative to today's high-calorie, inflammatory, and health-debilitating sweeteners, you need go no further than The Stevia Solution Cookbook! Very highly recommended for personal, family, and community library Specialty Cookbook collections."
—Midwest Book Review