Songbirds are Free: 2nd Edition (Paperback)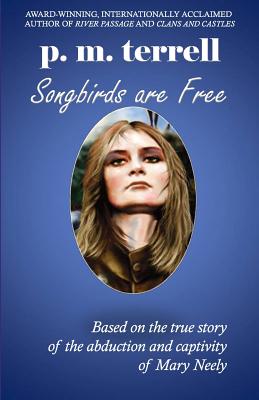 $23.99

Likely 2-7 Business Days; Some Exceptions
(This book cannot be returned.)
Description
---
Based on a true story. In August 1780, just four months after arriving at Fort Nashborough after a harrowing river journey west, 19-year-old Mary Neely was captured by Shawnee warriors.

Mere moments after witnessing her father's death and scalping, the warriors spared Mary's life, taking her to Shawneetown, hundreds of miles away along the Ohio River, where they initiated her into the tribe and renamed her Songbird for her beautiful voice. Then they gave her a choice: marriage to the warrior that had just slain her father, or become a slave to the chieftain's wife. She told the interpreter that she wanted neither because songbirds are free. The interpreter then decided for her: she would become a slave.

Mary's ordeal was only beginning. She was taken a thousand miles from her home, journeying the war-torn country's midsection while she attempted numerous times to escape, only to be interrupted or recaptured.
At Fort Detroit, she learned the British soldiers were rewarding Native Americans that captured settlers, believing this would impair their ability to fight in the Revolutionary War. They paid the Shawnee for her Indian capture but returned her to the captors. The tribe, in turn, used their payment to unwittingly purchase items from Fort Detroit, including blankets carrying smallpox.
As their travels continued northward, the dwindling tribe became infected with smallpox, including Mary. She managed to escape to a French village, whose inhabitants hid her while her captors searched for her. But her ordeal was not yet over. During her escape, she was captured by the British, who held her as a prisoner of war.
Songbirds are Free is considered a narrative nonfiction survival story penned by a descendant of Mary Neely, who traveled in her footsteps more than two hundred years after her ancestor's capture. Author p.m.terrell began with personal journals and articles of the period and met with historians, archeologists, and Native American experts, as well as visited the places where Mary was taken. The result is a meticulously researched account of Mary Neely's three years in captivity, revealing a strong woman that never gave up faith or determination to be free. It is also considered Native American/Colonial American/Early American historical fiction for its use of dialogue. Songbirds are Free reads like a fast-paced action-adventure, but it proves once more that truth is often more dramatic than fiction. It is also a peek into Native American culture at the time of the American Revolution, their struggles, their will to survive, and the choices they faced in aligning with the French, the British, or the Americans.

Ultimately, Songbirds are Free is about the women that helped to settle America and their grit, perseverance, faith, and strength.

The story of Mary's journey westward in 1779-1780 as part of the Donelson river voyage is told in the companion book, River Passage. Her ancestor's migration in 1608 from Scotland to Ulster is detailed in Clans and Castles.

About the Author
---
p.m.terrell is the pen name for Patricia McClelland Terrell, the internationally acclaimed, award-winning author of more than 21 books in five genres. A full-time writer since 2002, her historical book River Passage, the prequel to Songbirds are Free, won the 2010 Best Drama Award; Vicki's Key placed as one of five finalists in the 2012 International Book Awards (suspense) and The Tempest Murders placed as one of four finalists in the 2013 USA Best Book Awards (cross-genre). Prior to her writing career, she founded and operated two computer companies in the Washington, DC area. Her specialties are computer crime and computer intelligence, themes that carry forward to her contemporary suspense/ thrillers. Her clients included the CIA, Secret Service and Department of Defense.