Hilda and the Mountain King (Hildafolk #6) (Paperback)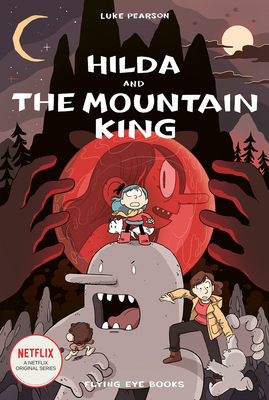 $10.99

Likely 2-7 Business Days; Some Exceptions
Other Books in Series
This is book number 6 in the Hildafolk series.
Description
---
Now in paperback! See what perils await our beloved blue-haired adventurer in the sixth book of Luke Pearson's widely praised series.

We rejoin our heroine for her latest adventure just as she awakes to find herself... in the body of a troll! Her mum is worried sick, and is perplexed by the strange creature that seems to have taken Hilda's place. Now, both of them are in a race to be reunited before Ahlberg and his safety patrol get the chance to use their new secret weapon to lay waste to the trolls, and Hilda along with them!
About the Author
---
Luke Pearson is the creator of the Hilda series of comics. He is also a writer and co-executive producer of the Bafta winning animated series of the same name. Outside of Hilda, he has been an illustrator, a storyboard artist and has drawn a range of other comics. He lives with his family in Nottingham.
Praise For…
---
Hilda is now on Netflix! Season 1 is the WINNER of the BAFTA Children's Award for Best Animated Series 2019! Season 2 is out now! 

"...a charming, and surprisingly cozy, Nordic myth–inflected world full of trolls and giants and strange beasts."
—Publishers Weekly 

"Luke Pearson is one of the best cartoonists working today. Hilda is utterly brilliant!"
—Raina Telgemeier, creator of Smile

"Plain smart and moving. John Stanley's Little Lulu meets Miyazaki."
—Guillermo Del Toro

"Luke Pearson's Hilda stories are beloved in our house, and they will surely be enjoyed by audiences for many years to come."
 —Kazu Kibuishi, creator of Amulet

"In Hilda, Luke Pearson has created a truly odd and amazingly beautiful world—Stunningly personal and original. I am in awe of his imagination. He is a real inspiration."
—Mike Mignola, creator of Hellboy

"Pearson thinks kids can handle a lot: visually, emotionally, thematically. That's why they like his work, and why I do too. Simplicity can be a virtue, but there's also something to be said for embroidery, and he takes just enough from each of those attributes to make strong books […] The panel structure of Mountain King is as visually complex as the range of emotions in the story, and yet neither is hard to read. It feels cinematic without leaving comics behind."
—Hillary Brown, The Comics Journal

"This is an adventurous and delightful story that follows Hilda as she wakes up a troll and seeks to become human again. With lots of action, a tenacious heroine, and fantastic illustrations, children are sure to enjoy following the latest graphic novel installment of HILDA AND THE MOUNTAIN KING. Highly recommend for reluctant readers and/or anyone who wants to enjoy a thrilling and engaging fantasy adventure."
—Olivia Farr, YA Books Central