Hilda and the Bird Parade: Hilda Book 3 (Hildafolk #3) (Hardcover)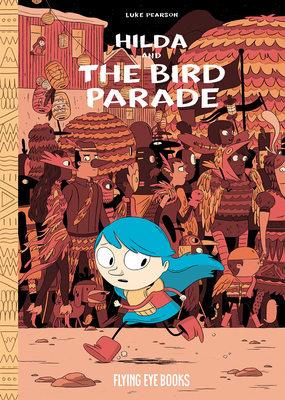 $19.95

Likely 2-7 Business Days; Some Exceptions
Other Books in Series
This is book number 3 in the Hildafolk series.
Description
---
Hilda Season 1 is now on Netflix!

"Luke Pearson is one of the best cartoonists working today. Hilda is utterly brilliant!"
—Raina Telgemeier, creator of Smile

A New York Times' Notable Book for 2013
One of School Library Journal's Top 10 Graphic Novels of 2013
Nominated for the 2014 Eisner for Best Publication for Kids!

Getting used to life in the big city is proving difficult for Hilda. The diminutive explorer is still missing the enchanted valleys and magical friends that surrounded her home in the fjords. But tonight is somehow different; tonight is the night of the mysterious Bird Parade.

Finding herself lost on the streets of Trolberg, Hilda befriends a talking raven. Together they encounter all manner of bizarre creatures from outcast Trolls to ferocious Salt Lions and deadly Rat Kings—maybe the city isn't so boring after all.

As the pair try to find their way home, it becomes clear that the amnesiac raven has an important mission to attend to . . . if only he could remember what it was.
About the Author
---
WATCH SEASONS ONE AND TWO OF HILDA THE ANIMATED SERIES NOW ON NETFLIX!

Luke Pearson is the artist and writer of the Hilda series of graphic novels. He has fast become one of the leading talents of the United Kingdom and United States comics scene, garnering rave reviews from the New York Times and the School Library Journal. He was the winner of the Young People's Comic category at the British Comic Award in 2012, and he has been nominated for the Eisner Award's Best Publication for Kids and Best Writer/Artist in 2013. He has recently written and storyboarded multiple episodes of the cult classic show Adventure Time. He lives in Bristol, United Kingdom.
Praise For…
---
Hilda is now on Netflix! Season 1 is the WINNER of the BAFTA Children's Award for Best Animated Series 2019! Season 2 is out now!

"...a charming, and surprisingly cozy, Nordic myth–inflected world full of trolls and giants and strange beasts."
—Publishers Weekly

"Luke Pearson is one of the best cartoonists working today. Hilda is utterly brilliant!"
—Raina Telgemeier, creator of Smile

"Plain smart and moving. John Stanley's Little Lulu meets Miyazaki."
—Guillermo Del Toro

"Luke Pearson's Hilda stories are beloved in our house, and they will surely be enjoyed by audiences for many years to come."
—Kazu Kibuishi, creator of Amulet

"In Hilda, Luke Pearson has created a truly odd and amazingly beautiful world—Stunningly personal and original. I am in awe of his imagination. He is a real inspiration."
—Mike Mignola, creator of Hellboy

A New York Times' Notable Book for 2013
One of School Library Journal's Top 10 Graphic Novels of 2013
Nominated for the 2014 Eisner for Best Publication for Kids!

"Pearson's utter lack of pretension keeps Hilda feeling fresh, while his reading of folktales and Tove Jansson's Moomin series embeds Hilda in the long history of children's stories. […] Hilda's dilemmas, while fantastic, also feel real […] Pearson has found a lovely new way to dramatize childhood demons, while also making you long for your own cruise down the fjords."
—The New Yorker

"[Hilda's world] is… a glorious, exciting if also rather menacing place — one children will be eager to enter. It's also visually arresting: exuberant and lively and faintly Miyazakian"
—The New York Times Book Review

"For adults ... Pearson's measured storytelling ... and detailed, imaginative artwork make Hilda and the Bird Parade an absolute treat to dive into. It's hard to imagine a better all-ages comic will be published this year."
—Slate

"A perfect pitch between childlike adventure, subtle mystery, and gentle lyricism."
—Booklist, STARRED REVIEW

"Although Trolberg initially seems grim (down by the docks, the bird scares Hilda with a story about a rat king, to which she responds, "You can't remember who you are but you can remember that?"), Pearson shows how Hilda's optimism, curiosity, and self-assuredness help her make the most of this unfamiliar new setting. The reds, golds, and blues in the palette (Hilda's signature colors) hint at the way her outlook transforms the town from intimidating and rundown to a place where magical, wonderful things can happen."
—Publisher's Weekly, STARRED REVIEW

"A joyous riot of animist magic."
—The Times

"Pearson has hit his stride with this world. The book has the same wonderful color scheme as the previous and maintains similar tonal shifts as well, with warm colors for cozy home scenes and cool colors for outdoor night scenes. The lettering is crisp and strong."
—Comics Alliance