Lonely Planet Kids The Weather Book 1 (The Fact Book) (Hardcover)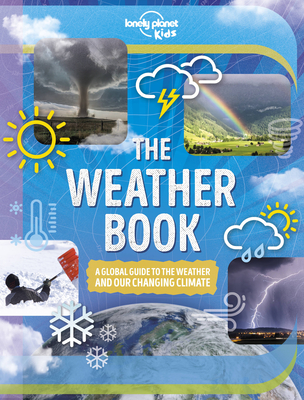 $19.99

Likely 2-7 Business Days; Some Exceptions
Description
---
Get your umbrella, your sun hat and your snowshoes ready for this thrill-packed journey through the world of weather. Find out about different climates and weather patterns; discover the processes that drive them; learn the secrets of forecasting the weather and read about record-breaking weather and weird weather events, such as 'animal rain', 'ice bombs', 'ball lightning' and much more. This title also looks at the hot topics of pollution and climate change - how human activity can affect the weather, the impact of global warming and, most importantly, what we can all do to help. It's packed with fascinating facts and stories that will bring the extraordinary world of weather to life, making it perfect for budding meteorologists, young and old!
Contents includes:
Daily Weather
Seasons and Climate
Extreme and Amazing Weather
Using the Weather
The Weather is Changing
About Lonely Planet Kids: Lonely Planet Kids - an imprint of the world's leading travel authority Lonely Planet - published its first book in 2011. Over the past 45 years, Lonely Planet has grown a dedicated global community of travelers, many of whom are now sharing a passion for exploration with their children. Lonely Planet Kids educates and encourages young readers at home and in school to learn about the world with engaging books on culture, sociology, geography, nature, history, space and more. We want to inspire the next generation of global citizens and help kids and their parents to approach life in a way that makes every day an adventure. Come explore!
About the Author
---
Steven Parker's writing career began with 10 early titles in Dorling Kindersley's multi-award-winning Eyewitness series, from the late 1980s to the late 1990s. He has since worked for more than a dozen children's book publishers and been shortlisted for, among others, the Rhone-Poulenc Science Book Prize, Times Educational Information Book of the Year, and Blue Peter Book Award.[3]
In 2009 he co-wrote The Complete Guide to Minerals, Rocks and Fossils of the World, with John Farndon, (Lorenz Educational Press)
In 2013 Parker's title Science Crazy (QED) won the UK School Library Association's Information Book Award,[4] and Fizzing Physics (QED) won the Hampshire Information Book Award.[5]
Parker also writes adult books, recently including Extinction: Not the End of the World? (Natural History Museum, 2013),[6] the million-selling The Human Body Book (Second Edition, Dorling Kindersley, 2013) and Kill or Cure, an Illustrated History of Medicine (Dorling Kindersley, 2013.) [7]
In 2014 Kill or Cure entered the New York Times Science Bestsellers [8] and also won the 2014 British Medical Association Book Award for Public Understanding of Science.[9]
In 2015 Parker was general editor of Evolution: The Whole Story (Thames and Hudson), heading a team of 12 expert authors in paleontology, paleobiology and paleoecology. Popular weekly New Scientist described the work as 'highly accessible … such an attractive and friendly book … the approach breathes life into everything, including "boring" stuff (that is, non-dinosaur stuff) … bright, breezy and modern'. [10]
In 2016 Parker produced two of the largest and most complex titles of his career, Medicine: The Definitive Visual History (Dorling Kindersley),[11] and BODY: The infographic book of us (Aurum Press) with graphic designer, illustrator and academic Andrew Baker.[12] He also continued his collaboration with London's Natural History Museum with publication of Colour and Vision: Through the Eyes of Nature. 2017 saw further titles including A Brief Illustrated History of Life on Earth (Raintree) [13] with specialist illustrator David West, and books on dinosaurs, oceans and seas, and robots and gadgets. In 2018 Parker received the School Library Information Book award for the second time, for In Focus: Seas and Oceans (Kingfisher).