Gun Honey (Paperback)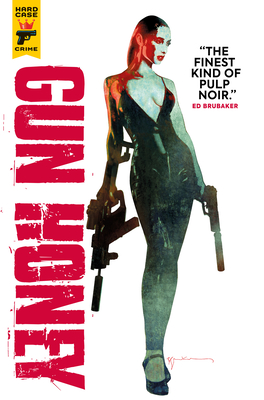 Description
---
Award winning Charles Ardai, co-founder of Hard Case Crime, brings his noir expertise to the fore in his debut graphic novel about a sexy weapons smuggler.


She'll get you the weapon you need, when you need it, where you need it -- no matter how impossible.

But when a gun smuggled into a high-security prison leads to the death of dozens and the escape of a brutal criminal, Joanna Tan is suddenly forced by the U.S. government to do a job for them: find the man she set loose and bring him down.

About the Author
---
Charles Ardai's writing has appeared in mystery magazines such as Ellery Queen's Mystery Magazine and Alfred Hitchcock's Mystery Magazine, gaming magazines such as Computer Gaming World and Electronic Games, and anthologies such as Best Mysteries of the Year and The Year's Best Horror Stories. Ardai has also edited numerous short story collections such as The Return of the Black Widowers, Great Tales of Madness and the Macabre, and Futurecrime.

His first novel, Little Girl Lost, was published in 2004 and was nominated for both the Edgar Allan Poe Award by the Mystery Writers of America and the Shamus Award by the Private Eye Writers of America; his second, Songs of Innocence, was called "an instant classic" by The Washington Post, selected as one of the best books of the year by Publishers Weekly, and won the Shamus Award. Both books were written under the alias Richard Aleas and were optioned for the movies by Universal Pictures.


Ardai previously received a Shamus nomination for the short story "Nobody Wins" and he received the Edgar Award in 2007 for the short story "The Home Front". In 2015, he received the Ellery Queen Award for his work on Hard Case Crime. Ardai's third novel, Fifty-to-One, was published in November 2008. It was the fiftieth book in the Hard Case Crime series and the first to be published under Ardai's real name.

In 2010, he began working as a writer and producer on the SyFy television series Haven, inspired by the Hard Case Crime novel The Colorado Kid by Stephen King. The first episode of Haven aired on July 9, 2010 and the last aired on December 17, 2015.
In 2016, he wrote a novel based on the Shane Black movie The Nice Guys.


In addition to his writing and publishing activities, Ardai serves as a managing director of the D. E. Shaw group.


Ang Hor Kheng is an illustrator based in Ipoh, Malaysia who works primarily with traditional media rather than digitally. His inspirations include Frank Frazetta, Al Williamson, Peter Konig, Jim Lee, and John Buscema. He has been drawing since he was 3 years old.

Praise For…
---
"The finest kind of pulp noir." – Ed Brubaker (Captain America)

"GUN HONEY is sexy, violent and fast, a blistering burning house of a narrative." – Max Allan Collins (Road to Perdition)

"You've never met a femme quite as fatale as Joanna Tan." – Duane Swierczynski (Birds of Prey)

"Charles Ardai is a very smart and very cool fellow." – Stephen King

"Gun Honey puts the thrill in thriller." - kabooooom

"Exciting…a timeless bit of pulp crime fiction." - Comic Book Resources

"Racey and action packed superb story with stunning visuals" - Geeks WorldWide

"A great read, with a fantastic lead character, written in a way that engenders a sexy, violent and fun book. 5 Stars" - Comic Crusaders

"an entertaining story" - Bleeding Cool

"Phenomenal…an adventure worthy of the silver screen." - Reading With a Flight Ring

"the powerhouse creation of a world-class criminal, a femme fatale, and James Bond all rolled into one." - Comical Opinions