All I Need Is You To Brighten My Days: ournal Valentine's Day Gift, Heart alternative to Greeting Card, Valentine Anniversary Gift Love for Husband, B (Paperback)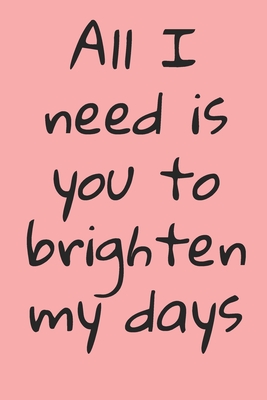 Not Currently Available- Email for More Information
Description
---
The best gifts are both personal and functional and that's why a Notebook is always a fantastic choice This Journal is a Perfect Gift for your Boyfriend on valentine's day, Anniversary, Christmas or any time you want to get a smile out of your Boyfriend.
- Cover Finish: Matte
- Dimensions: 6" x 9" (15.24 x 22.86 cm)
- Interior: White Paper, Lined Pages
- Pages: 110
Ps: Don't forget to share your thoughts with us. Just write a customer review.
We hope you'll enjoy our specially designed Notebook-Journals Discover more journals, planners, guest books and notebooks just search for
"Y&Y"
in the Books section. Visit our
Y&Y
author page - beautiful, colorful, and trendy journals, notebooks, planners and guest books are awaiting you there