Riders of the Purple Sage (Annotated) LARGE PRINT (Large Print / Paperback)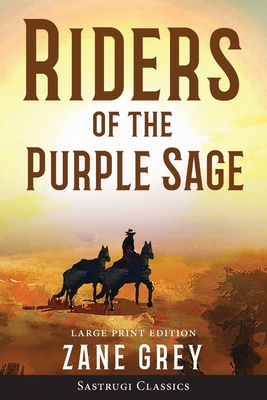 Not Currently Available- Email for More Information
Description
---
Read the western classic that started it all.
Features an extended biography of the life and experiences of Pearl Zane Grey
LARGE PRINT Edition
The definitive edition.
Hop on board this galloping Western tale that touches on humanity, loyalty, religion and the conflicts of old-fashioned prejudice. Jane Withersteen is a young lady coming into her own within the confining limits afforded her within the polygamous Mormon church. She has a mind of her own, however.
When the church's leader, Elder Tull makes his intention to take her as another one of his wives known, Jane is forced to come to grips with the inherent evil she has grown up turning a blind eye to. To this end, she turns to some of the church's most rabid enemies as an unlikely source of aid.
With the church's ruthless methods of dealing with dissenters being no secret, the stakes are high for those willing to show any signs of rebellion. Follow Jane as she wages a war for her very own salvation from the clutches of a sickly society.
She is accompanied by a handful of friends facing their own particular challenges with society's prejudices. Will their blooming youth, adventurous spirits, unshakable loyalties, and irrepressible ambitions overcome the icy-hearted obstinacy before it's too late?