The Alarming Palsy of James Orr (Paperback)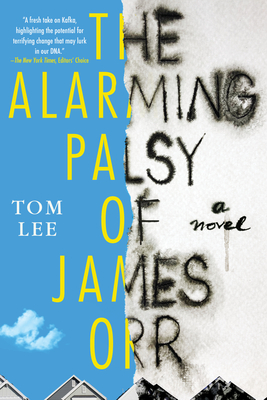 Description
---
A Kafkaesque and darkly humorous "suburban gothic" that tracks the unraveling of man's body, mind, and life.
 
James Orr—husband, father, reliable employee and all-around model citizen—awakes one morning to find half his face paralyzed.
 
Waiting for the affliction to pass, he stops going to work and wanders his idyllic estate, with its woodland, uniform streets and perfectly manicured lawns. But there are cracks in the veneer. And as his orderly existence begins to unravel, it appears that James may not be the man he thought he was.
 
A deeply unsettling story of creeping horror that consistently confounds expectations, The Alarming Palsy of James Orr introduces a writer of extraordinary and disturbing talents.
About the Author
---
Tom Lee's fiction and personal essays have appeared in The Sunday Times, Esquire, Prospect, The Dublin Review, and Zoetrope, among others. He is also the author of Greenfly, a collection of short fiction. His work has been shortlisted for The Sunday Times EFG Private Bank Short Story Award and longlisted for the Notting Hill Essay Prize. He teaches at Goldsmiths, University of London.
Praise For…
---
Praise for The Alarming Palsy of James Orr

"A fresh take on Kafka, highlighting the potential for terrifying change that may lurk in our DNA. Lee explores themes of illness and the almost dystopian alienation that emerges between sufferers and the well, and does so with artfulness and delicious doses of body horror and contemporary British social satire."
—The New York Times, Editors' Choice

"There are moments—sudden ghostly noises and involuntary spasms—that make us see the well-mown suburbs as James does, a 'brittle veneer on reality, one that might fracture or shatter entirely at any time.'"
—The Wall Street Journal

"Tom Lee's clipped, cold-blooded sentences form a thin mantle over the sinisterly simmering plot of this mesmerising first novel."
—Financial Times
 
"In this disquieting novel, Lee explores how briskly the pleasures that we take for granted can vanish . . . Lee's writing pulses with humour and an appreciation of the abject silliness of human beings . . . He writes with a needle, and with a short-story master's eye for structure."
—Sunday Times

"Perception and reality blur in a compelling fable about otherness, anxiety and the alienating effects of illness . . . Darkly comic fun . . . [A] compelling mystery."
—The Guardian

"A sober and unsettling voice . . . The real accomplishment of Tom Lee's novel is its haunting evocation of the insidiously dystopian climate of English suburbia."
—The Times Literary Supplement

"A quietly brilliant novel that questions whether conformity is a form of illness."
—Metro (UK)

"A ferociously entertaining fable of a man coming undone. Like Donald Antrim, Tom Lee constructs a world of clean open air where curious things happen, where people aren't always who they seem, and where the places we choose to live turn out  to be much stranger than we thought. You'll finish The Alarming Palsy of James Orr in a day, and obsess over it for weeks."
—Ian MacKenzie, author of Feast Days

"Animating Tom Lee's darkly hilarious The Alarming Palsy of James Orr is a dread many of us must unknowingly carry inside us: that any moment some fresh disaster might strike us, one that casts us not into dramatic exile but rather leaves us only ever so slightly apart, marooned at the slimmest possible distance from the good lives we thought we'd earned and forever secured."
—Matt Bell, author of Scrapper 

"A slim shiver of dread and paranoia, Tom Lee's superb debut novel explores the darkness that exists millimetres beneath the seemingly normal, regular world. It is a read-in-one sitting fable of considerable power and skill."
—Stuart Evers, author of Ten Stories About Smoking 

"Astonishing and riveting . . . a perfectly calibrated absurdist novel that amuses and unnerves in equal measure."
—Publishers Weekly, Starred Review

"This book reads like an insidious suburban nightmare, pared down to its bare essentials. A highly controlled and expert commentary on the fickleness of our modern life."
—Book Riot

"What a delightfully strange book that instills a creeping sense of dread that everything is not going to be all right in the end, it never was, and the grasp that anyone has on their life is fragile at best. I think you should read this book."
—Chris Lee, Boswell Book Company (Milwaukee, WI)