Raising Boys: A Christian Parenting Book: A Practical Guide to Faith-Based Parenting (Paperback)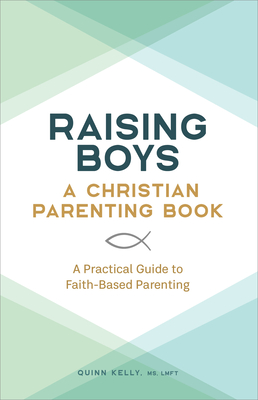 $14.99
Not Currently Available- Email for More Information
Description
---
Weave the Bible's wisdom into your parenting and instill faith in your son
As a parent, you will always be your son's first and most powerful influence—which is why it's so important to raise him with God by your side. This guide is full of practical parenting advice and spiritual insights that show you how to root your parenting in God's Word and raise your son with intention and care.
What sets this guide apart from other Christian parenting books:
The basics of raising boys—Discover how your son's emotional and physical development impact your parenting style, and define the values and goals that keep him close to Christ.
Parenting principles—Explore Bible-based principles that help you model your faith, set and respect boundaries, and create the foundation for a relationship based on love, trust, and understanding.
Targeted techniques—Learn specific strategies for affirming your son's self-worth, dealing with bullies, navigating social media, and more.
Be the wise and Christ-honoring parent your son deserves with help from this modern, Scripture-based guide.
About the Author
---
QUINN KELLY, MS, LMFT, is a wife to her middle school sweetheart, mom to four boys, writer, speaker, podcaster, and licensed marriage and family therapist. Her blog, Sanctification and Spitup, was born when she first had children. She wanted to have a place to connect with other parents in an authentic yet encouraging way through the highs and lows of motherhood. From her blog, Quinn began speaking to groups of women and men, which led her to launch her own conference series called the Renew Faith Conferences in Houston, TX. Now, with her Renew You Podcast, Quinn offers a dose of Jesus + therapy in every episode. When Quinn is not writing or seeing clients, she is shuffling her boys between swim practices and walking her goldendoodle, Hazel, who has entirely too much energy.
Praise For…
---
"Quin has done it! This book is a succinct, informative, and practical guide to raising boys. With four boys of her own, she knows the issues moms face, as well as the time constraints they live under. Raising Boys: A Christian Parenting Book offers short essays that are power-packed and straight to the point. Busy moms can tuck this book in their purse and read it at the stoplight. Win, win!" —Chrys Howard, author of Rocking It Grand

"Popular culture is more than happy to parent our boys in its ways, and as parents, we have the opportunity to create space for our boys to flourish amid the times we live in. Kelly has left no stone unturned as she guides us in shepherding our boys to be resilient, wise, and faithful to Christ." —Tiffany Bluhm, author of Prey Tell and cohost of the Why Tho podcast

"Raising Boys: A Christian Parenting Book is an essential and impactful book for anyone who wants to know about and improve their relationship with the boys in their life. I highly recommend Quinn's book to parents, parents-to-be, grandparents, aunts, uncles, and anyone who wants to improve and understand the 'how-to' raise sons, grandsons, nephews, or any boy close to them. Quinn's format and layout of each chapter make reading her book or finding a particular topic easy. She is forthright and gets straight to the point. Her topics, stories, and suggestions are ones we can relate to and want to know more about. I find it amazing that Quinn covers so much we need to know about boys in one book. She not only tells us what to do but how to do it. As a mother of four grown sons, I wish I had this book during the years I had my sons at home. I can now offer "Raising Boys for their sons, my grandsons." —Laura McPherson, MS, LMFT, author of It's Me, Not You: Key to Healthy Relationships

"Do you want to raise sons to be the men God made them to be? In Raising Boys: A Christian Parenting Book, Quinn Kelly explains essential, developmental truths in an easy-to-read format. Quinn skillfully weaves stories and Scripture to provide parents with the necessary tools they need as they raise their sons. As a mother of five adult children, I believe this book, along with Scripture, will ease the fear of raising sons." —Connie Albers, author of Parenting Beyond the Rules and owner of Equipped To Be with Connie Albers