Saturn Run (CD-Audio)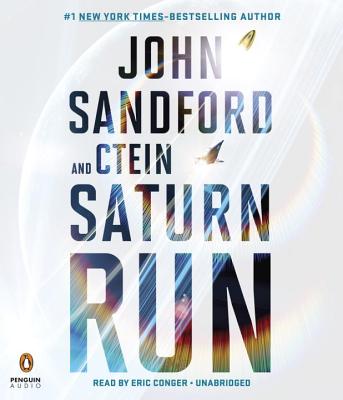 Description
---
"Fans of Lucas Davenport and Virgil Flowers will eat this up." --Stephen King

For fans of THE MARTIAN, an extraordinary new thriller of the future from #1 New York Times–bestselling and Pulitzer Prize–winning author John Sandford and internationally known photo-artist and science fiction aficionado Ctein. 
 
Over the course of thirty-seven books, John Sandford has proven time and again his unmatchable talents for electrifying plots, rich characters, sly wit, and razor-sharp dialogue. Now, in collaboration with Ctein, he proves it all once more, in a stunning new thriller, a story as audacious as it is deeply satisfying.
 
The year is 2066. A Caltech intern inadvertently notices an anomaly from a space telescope—something is approaching Saturn, and decelerating. Space objects don't decelerate. Spaceships do.
 
A flurry of top-level government meetings produces the inescapable conclusion: Whatever built that ship is at least one hundred years ahead in hard and soft technology, and whoever can get their hands on it exclusively and bring it back will have an advantage so large, no other nation can compete. A conclusion the Chinese definitely agree with when they find out.
 
The race is on, and an remarkable adventure begins—an epic tale of courage, treachery, resourcefulness, secrets, surprises, and astonishing human and technological discovery, as the members of a hastily thrown-together crew find their strength and wits tested against adversaries both of this earth and beyond. What happens is nothing like you expect—and everything you could want from one of the world's greatest masters of suspense.


From the Hardcover edition.
About the Author
---
John Sandford is the author of twenty-five Prey novels, most recently Gathering Prey; eight Virgil Flowers novels, most recently Deadline; and eight other books, including the Young Adult novels Uncaged and Outrage, written with Michele Cook. He lives in Santa Fe, New Mexico.
 
Ctein is an internationally known photographer and expert on photographic printing. The holder of a double degree from Caltech in English and physics, he is the author of more than 500 articles, columns, books, and manuals, and is a well-known member of the science fiction community. He lives in San Francisco.


From the Hardcover edition.
Praise For…
---

"John Sandford is an amazing, protean writer, and Saturn Run is a terrific story of alien first contact. It's a book Michael Crichton would have enjoyed, but never could have written; he didn't have Sandford's gift of good humor and his uncanny ear for dialogue. With the able partnership of Ctein, it's fast, scientifically believable, and peopled by characters who become good friends. Fans of Lucas Davenport and Virgil Flowers will eat this up."
— Stephen King 

"Three things to know: First, I'm the world's biggest John Sandford fan.  Second: I saw this book and thought ... what?  Third: I needn't have worried.  It's vintage Sandford all the way, with all his trademark strengths and insights, except set in the future, not the present.  You won't be disappointed."
 — Lee Child

Utterly captivating! With the heart of a breakneck thriller and the mind of the best science fiction (Bradbury and Heinlein come to mind), Saturn Run keeps us enthralled from beginning to end. Sandford and Ctein have brilliantly pulled off the difficult task of making a very different world very  familiar, proving that a born storyteller is a storyteller, whether he sets his books on mean streets or in deep space. I, for one, want more. 
— Jeffery Deaver

"My compliments to Ctein and John Sandford for Saturn Run. I enjoyed it greatly. It's a meticulous novel, 100 percent hard science fiction. A space war is the most difficult thing to portray, and the authors have pulled it off. I was reminded of Footfall, my and Jerry Pournelle's own work, and Carl Sagan's Contact."
  — Larry Niven, Hugo and Nebula Award-winning author of the Ringworld series

"Sandford and Ctein conjure up some delightful chemistry among these characters, making their journey as harrowing as it is entertaining. Here is a prime example of the principle that in a sci-fi novel about space travel, half the fun is in getting to the destination."— Washington Post

"The combination of both hard and soft sciences makes this story an excellent read. The central characters are well developed, compelling, and realistic. Highly recommended for the multitudes of Sanford fans and all those who revel in speculative fiction." —  Library Journal

 "James Bond meets Tom Swift, with the last word reserved for…international piracy, state secrets, and a spot of satisfyingly underhanded political pressure." —  Kirkus

"A must-read…Scenes of beauty collide with catastrophes, as technology takes over in this incredible tale [with] a fabulous ending for all Sandford fans to thoroughly enjoy." — Suspense Magazine

"Scenes of wonder and beauty are joined with moments of helpless calamity at a pace that leaves the reader no time to look back and consider what just happened. The authors include plenty of fascinating technology and inside jokes for SF fans, and the conclusion is inevitable and satisfying."—Publishers Weekly, Starred Review

"Traveling vicariously with these daring space pioneers makes for a riveting read....And it isn't a spoiler to reveal that it has a perfect ending." — St. Paul Pioneer Press

"A gripping, futuristic tale. The overall experience of "Saturn Run" is like a mixture of Arthur C. Clarke's "2001: a Space Odyssey" and "Rendezvous With Rama." Readers looking for a great sci-fi story won't be disappointed. At almost 500 pages, the pace and compelling characters keep things moving and nothing seems padded." — Associated Press

" Ambitious and alluring, "Saturn Run" is sci-fi in the Arthur C. Clarke tradition, but stepped-up and updated. It's still powered by romance—not of the unknown, but of what could—just possibly—be within our reach." — The Wall Street Journal
From the Hardcover edition.