Abide in the Heart of Christ: A 10-Day Personal Retreat with St. Ignatius Loyola (Paperback)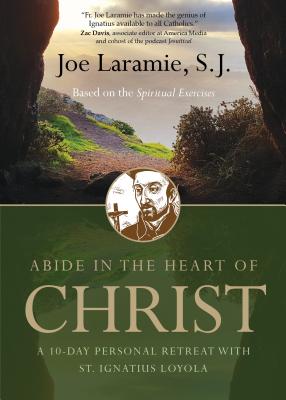 $14.95

Likely 2-7 Business Days; Some Exceptions
Description
---
In Abide in the Heart of Christ, Rev. Joe Laramie, S.J., offers accessible wisdom from the foundations of Jesuit spirituality--St. Ignatius Loyola's Spiritual Exercises--in a ten-day personal retreat that will help you encounter Christ, grow your relationship with him, and shape your heart.
Laramie is your guide through this accessible retreat into the heart of Jesus. Based on a structure and approach he developed as a retreat leader at White House Jesuit Retreat in St. Louis, Laramie introduces you to classic themes of the Christian life, including sin, forgiveness, and creation.
This book also helps you learn how to use key scripture passages to reflect on your own experiences. Each reflection includes teachings from the Spiritual Exercises and offers examples from Laramie's own life. Reflection questions and activities guide you in further contemplation to help you see what's in your heart, encounter Christ in your daily life, and live more fully in his love each day.
About the Author
---
Fr. Joe Laramie, SJ, is national director of the Pope's Worldwide Prayer Network (Apostleship of Prayer) and the author of Abide in the Heart of Christ. He previously served as a campus minister at St. Louis University, where he earned his undergraduate and master's degrees in communications. He studied at Kenrick-Glennon Seminary prior to joining the Jesuit novitiate. Laramie earned master of divinity and licentiate degrees at Boston College. He was ordained a priest in 2011. Laramie's ministry has included working with the homeless in Minnesota and Oregon and with hospital patients in Illinois. He taught at Regis Jesuit High School in Aurora, Colorado, and Rockhurst High School in Kansas City, Missouri, and also worked as a missionary to Mayan villages in Belize. Laramie served as a preacher and spiritual director at White House Jesuit Retreat house in St. Louis, Missouri. Laramie's work has appeared on jesuits.org, and in America magazine, The Jesuit Post, the Pope's Worldwide Prayer Network, the White House Jesuit Retreat blog, and SLU.edu. He has been a guest on Busted Halo, EWTN radio and TV, the Jesuitical podcast, and Leah Darrow's Lux U.