Simply Scratch: 120 Wholesome Homemade Recipes Made Easy (Hardcover)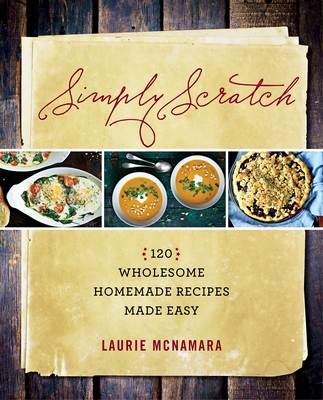 Not Currently Available- Email for More Information
Description
---
From the popular blogger behind Simply Scratch comes a debut cookbook of easy and accessible family recipes — the new bible for cooking with whole foods.

For Laurie McNamara, growing up on a farm in the country had major perks: her mother cooked with vegetables from the family garden, they collected fresh eggs from the chicken coop, and absolutely everything—from ketchup to casseroles—was made 100 percent from scratch, with whole foods. When McNamara moved away from home, though, she found herself too busy to prepare from-scratch meals, between working full time and raising two kids. Like most Americans, she relied on boxed brownie mix, canned soup, bottled dressings, and frozen dinners to make home cooking quicker and cheaper. But she soon learned that these so-called shortcuts were in fact both more expensive and light-years less healthy than simply making everything herself.

Eventually, she'd had enough and vowed to remake her kitchen into a from-scratch kitchen. Now, five years later, McNamara has helped hundreds of thousands of home cooks prepare from-scratch meals with whole-food ingredients through her blog, Simply Scratch.

McNamara's highly anticipated debut cookbook, Simply Scratch, brings her home-cooking know-how to the nation, with 120 wholesome, tasty recipes along with stunning photography, entertaining anecdotes, and personal musings. This book offers easy recipes for delectable concoctions such as Buckwheat Pancakes, Veggie Pesto Pizza, Creamy Roasted Tomato Soup, and Fudy Chocolate Toffee-Topped Brownies.

Simply Scratch will be the must-have bible to cooking beyond the box and can. Featuring a down-to-earth approach and family recipes that use everyday ingredients, Simply Scratch proves cooking from scratch can be affordable, simple, fun, and—of course—absolutely delicious.
About the Author
---
Laurie McNamara started her blog, Simply Scratch, in February 2010. Four years later, Simply Scratch logs more than 300,000 unique visits every month and has been featured on Good Morning America, in Woman's World, and on Jamie Oliver's blog, and the audience continues to grow. McNamara is also a recipe developer, taster, and food photographer; she partners with companies such as Simply Organic, Fair Trade USA, STAR Fine Foods, and The Pampered Chef to develop recipes, special blog posts, and hosted giveaways through Simply Scratch. McNamara is a member of the BlogHer network and is an active participant in the larger food blogging community. Before Simply Scratch, McNamara worked for years as an emergency unit care coordinator in her local hospital's emergency room.