Why Smart People Hurt: A Guide for the Bright, the Sensitive, and the Creative (Paperback)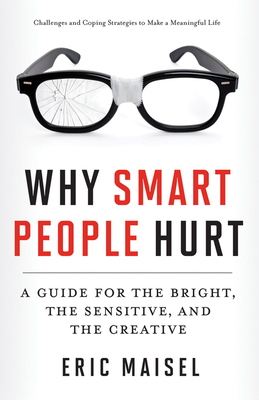 Description
---
The challenges smart and creative people encounter--from scientific researchers, genius award winners, to bestselling novelists, Broadway actors, highpowered attorneys, and academics-- often include anxiety, overthinking, mania, sadness, and despair.

Specifically, Dr. Maisel examines:
• "racing brain syndrome"
• living in an antiintellectual culture
• finding ideas worth loving
• dealing with boredom and hypersensitivity
• finding meaning in their lives and their work
• struggling to achieve success

In Why Smart People Hurt, psychologist Dr. Eric Maisel draws on his many years of work with the best and the brightest to pinpoint these often devastating challenges and offer solutions based on the groundbreaking principles and practices of natural psychology.

His thoughtful strategies include using logic and creativity to cope with the problems of having a brain that goes into overdrive at the drop of a hat. With a series of questions at the end of each chapter, he guides the reader to create his or her own roadmap to a calm and meaningful life.

Why Smart People Hurt is a mustread for parents of gifted children as well as the millions of smart and creative people that are searching for a more meaningful life.
About the Author
---
Eric Maisel, Ph.D., is the author of more than 40 books in the areas of creativity, psychology, coaching, mental health, and cultural trends. He is a psychotherapist and creativity coach, and writes for Psychology Today and Professional Artist Magazine and presents workshops internationally. Visit him at www.ericmaisel.com.
Praise For…
---
"A mustread for parents of gifted children and the 1.5 billion people who find themselves in the top 20% of the world's population, Why Smart People Suffer powerfully explains the struggles of our best and our brightest and provides answers with the potential to change the lives of millions of readers." -Gail McMeekin author of The 12 Secrets of Highly Creative Women
— Reviews

"In this insightful examination of the challenges bright individuals face, Eric Maisel explores how to reclaim your passion and to live a richer and more productive life. It's a smart move to read this wise book." --John Moir, Return of the Condor: The Race to Save Our Largest Bird from Extinction
— Reviews

"If you're so smart, why are you in so much pain? Dr. Maisel gets to the root of the special mental challenges of bright people, provides a new system for deriving meaning and joy from life, and helps you conquer the special challenges of being smart with compassionate and invaluable advice! This book will make a smart person even smarter." --Dr. Katharine Brooks, You Majored in What? Mapping Your Path from Chaos to Career
— Reviews

"Eric Maisel's Why Smart People Hurt is original, provocative and also reassuring. His conceptualization of mania as a thinking disorder and his treatment for this are original ideas that to my knowledge have never before been expressed. I have taken several courses from Eric and I know personally how powerful his methods are. His principles of natural psychology are, as he describes, simple and yet immensely practical and effective." --Dr. Laurie Jo Moore, MD, ABPN, FRANZCP
— Reviews