The Boy Who Harnessed the Wind: Young Readers Edition (MP3 CD)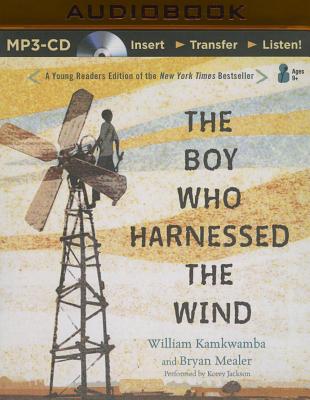 Not Currently Available- Email for More Information
October 2009 Indie Next List
---
"The Boy Who Harnessed the Wind is wonderful on so many levels -- an introduction to village life in Malawi, a funny and inspiring memoir and, above all, a shining example of the capacity of books to change lives. I can't stop thinking and talking about it."
— Mary Gleysteen, Eagle Harbor Book Company, Bainbridge Island, WA
Winter 2011 Reading Group List
---
"This is the heartwarming story of how one 14-year-old Malawian boy, unable to attend school, educated himself about electricity and learned how to make windmills. His accomplishment ended the cycle of drought and starvation-level poverty experienced by his family and the people in his rural village. I learned so much about the country of Malawi and a culture I knew little about. Great for book groups!"
— Linda, Beagle Books, Park Rapids, MN
Description
---
Now a Netflix film starring and directed by Chiwetel Ejiofor, this is a gripping memoir of survival and perseverance about the heroic young inventor who brought electricity to his Malawian village.
When a terrible drought struck William Kamkwamba's tiny village in Malawi, his family lost all of the season's crops, leaving them with nothing to eat and nothing to sell. William began to explore science books in his village library, looking for a solution. There, he came up with the idea that would change his family's life forever: he could build a windmill. Made out of scrap metal and old bicycle parts, William's windmill brought electricity to his home and helped his family pump the water they needed to farm the land.
Retold for a younger audience, this exciting memoir shows how, even in a desperate situation, one boy's brilliant idea can light up the world.