When the Lion Feeds (The Courtney Series: The When The Lion Feeds Trilogy #1) (Paperback)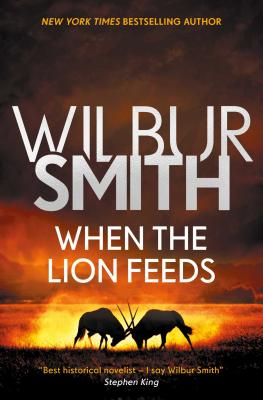 Description
---
A Courtney series adventure - Book 1 in the When the Lion Feeds trilogy

A Courtney series adventure: When the Lion Feeds trilogy - Book 1 "'What is it?' Sean felt the first tingle of alarm. 'N'yoni', said Mbejane softly and Sean saw them. A dark pall, still so far off that they could not distinguish the individual birds: only a shadow, a thin dark shadow in the sky. Watching it Sean was suddenly cold in the hot noonday sun. He started to run." Brothers by birth. Enemies by blood. Natal, 1860; the Courtney twins are born. Heirs to their father's fortune, destiny divides the boys from the start -- Garrick is eager to stay indoors with a book and escape the hardships of cattle-rearing, while Sean, strong and much-loved, wants to try his hand at everything. When Garrick is forced to take ownership of their farm, Sean must explore the opportunities awaiting him: the rush and horrors of the Zulu Wars, the women who will fall for his charms, the rise and fall of gold fever and the deadly thrills of big game hunting on the African plains. But will Sean's adventures really be his making -- and at what ultimate cost...?
About the Author
---
Wilbur Smith was born in Central Africa in 1933. He became a full-time writer in 1964 following the success of When the Lion Feeds, and has since published over forty global bestsellers, including the Courtney Series, the Ballantyne Series, the Egyptian Series, the Hector Cross Series and many successful standalone novels, all meticulously researched on his numerous expeditions worldwide. A worldwide phenomenon, his readership built up over fifty-five years of writing, establishing him as one of the most successful and impressive brand authors in the world.
The establishment of the Wilbur & Niso Smith Foundation in 2015 cemented Wilbur's passion for empowering writers, promoting literacy and advancing adventure writing as a genre. The foundation's flagship programme is the Wilbur Smith Adventure Writing Prize.
Wilbur Smith passed away peacefully at home in 2021 with his wife, Niso, by his side, leaving behind him a rich treasure-trove of novels and stories that will delight readers for years to come. For all the latest information on Wilbur Smith's writing visit www.wilbursmithbooks.com or facebook.com/WilburSmith

Mark Chadbourn is a Sunday Times bestselling author of historical fiction novels about the Anglo-Saxon warrior Hereward, published under his pseudonym James Wilde. His Age of Misrule books, under his own name, have been translated into many languages. As a screenwriter, he's written for the BBC and is currently developing a series for Lionsgate and several of the streaming networks. He began his career as a journalist reporting from the world's hotspots.