Murder Gets a Makeover (A Jaine Austen Mystery #18) (Hardcover)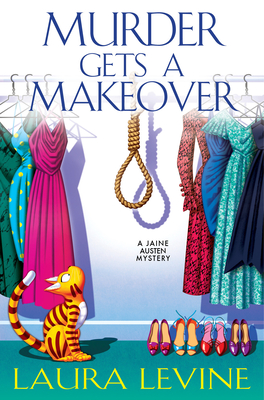 $26.00
Coming Soon - Available for Pre-Order Now
Other Books in Series
This is book number 18 in the A Jaine Austen Mystery series.
Description
---
It's the funny side of homicide in acclaimed TV comedy writer and novelist Laura Levine's new mystery featuring Hollywood writer-for-hire Jaine Austen and her snarky cat, Prozac—a laugh-out-loud read for fans of Joanne Fluke, Miranda James, and Laura Childs.


Writer-for-hire Jaine Austen, living in L.A. with her cat, Prozac, appreciates one of the perks of working freelance—a wardrobe that's heavy on elastic waists. But her BFF, Lance, has a makeover in mind, and it's about to lead to murde…

Uber-stylist Bebe Braddock plans to juice up her Instagram feed, and thinks Jaine would make a perfect "Before & After" model. At Lance's insistence Jaine is ushered into Bebe's sprawling Brentwood spread to await her transformation. Yet, while the surroundings are glamorous, the atmosphere is toxic as Bebe bullies her team of assistants, and even her husband, into obeying her every whim.

Having earned the wrath of everyone in her orbit, few are shocked when Bebe is found strangled with one of her detested wire hangers. But Jaine's prints are all over the murder weapon, making her a prime suspect. The police, however, aren't the only ones showing interest in her—so is Justin, Bebe's very cute, very young personal assistant. While Jaine navigates a cougar-style romance, Prozac is mistakenly hailed as a feline hero and catapults into internet fame. Still, there are more urgent matters at hand than Prozac's swelling ego. Because unless Jaine can track down Bebe's killer and clear her own name, the only new outfit she'll be modeling is an orange prison jumpsuit…


About the Author
---
Laura Levine is the author of the Jaine Austen Mystery series and a comedy writer whose television credits include The Bob
Newhart Show, Laverne & Shirley, The Love Boat, The Jeffersons and Three's Company. She lives in Los Angeles and can be
found online at JaineAustenMysteries.com.
Praise For…
---
OUTSTANDING PRAISE FOR LAURA LEVINE'S
JAINE AUSTEN MYSTERIES
 
DEATH OF A GIGOLO
"A solid mystery. . . . Fans of Mary Daheim and Tamar Myers will appreciate the comedy."
—Library Journal
 
"Cozy fans are in for a treat." 
—Publishers Weekly
 
"This cozy will delight fans who like a sharp comeback—and maybe a tater tot on the side."
—Kirkus Reviews

DEATH OF A NEIGHBORHOOD SCROOGE
"This is a thoroughly enjoyable cozy with just the right balance of crime, humor, and holiday spirit."
—Publishers Weekly (Starred Review)
 
MURDER HAS NINE LIVES
"Jaine pursues justice and sanity in her usual hilarious yet smart way, with Levine infusing wit into her heroine's every thought. A thoroughly fun read that will interest Evanovich fans."
—Booklist
 
"Another expertly conceived whodunit."
—Fresh Fiction
 
KILLING CUPID
"Jaine is absolutely hysterical . . . this author continues to write the best cozies."
—Suspense Magazine
 
DEATH OF A NEIGHBORHOOD WITCH
"Levine's latest finds her at her witty and wacky best."
—Kirkus Reviews
 
THIS PEN FOR HIRE
"Laura Levine's hilarious debut mystery, This Pen for Hire, is a laugh a page (or two or three) as well as a crafty puzzle. Sleuth Jaine Austen's amused take on life, love, sex and L.A. will delight readers. Sheer fun!"
—Carolyn Hart