Killer Blonde (A Jaine Austen Mystery #3) (Mass Market)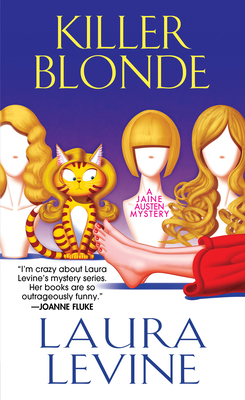 Other Books in Series
This is book number 3 in the A Jaine Austen Mystery series.
Description
---
A gal with a serious Ben & Jerry's habit can't afford to be too picky about employment opportunities. So when Beverly Hills socialite SueEllen Kingsley offers freelance writer Jaine Austen megabucks to ghostwrite a book of hostess tips, it's time to sharpen the #2s.

But everything short circuits when Jaine finds SueEllen floating face down in her tub, fried by her own blow dryer. The primary suspect: Heidi, SueEllen's stepdaughter, whose account of a mysterious blonde fleeing the scene is greeted with skepticism by Beverly Hills' finest. Peroxided suspects abound, including a very private masseuse, a jealous nurse, a former game show hostess . . . even a closet blonde with a surprising secret. One of them is hiding a murderous heart behind pricey highlights, and Jaine's out to expose the killer's dark roots. Because blondes have enough fun without getting away with murder . . .
 
 
"The identity of the real killer comes as a smart surprise."
—Publishers Weekly
About the Author
---
LAURA LEVINE is a comedy writer whose television credits include The Bob Newhart Show, Laverne & Shirley, The Love Boat, The Jeffersons, Three's Company, and Mary Hartman, Mary Hartman. Her work has been published in The Washington Post and The Los Angeles Times. She lives in Los Angeles, and is currently working on the next Jaine Austen mystery. Readers can reach her on Facebook (Laura Levine Mysteries), or her website: www.JaineAustenMysteries.com.