The Plot Is Murder (Mystery Bookshop #1) (Paperback)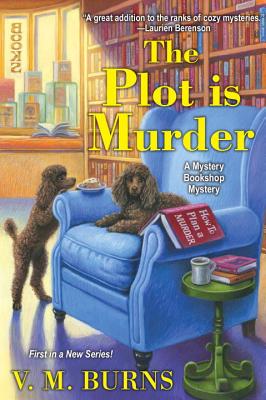 Other Books in Series
This is book number 1 in the Mystery Bookshop series.
Description
---
The small town of North Harbor on the shores of Lake Michigan is about to have a new mystery bookstore. But before the first customer can browse its shelves, the store's owner is suspected of her own murder plot . . .
 
Samantha Washington has dreamed of owning her own mystery bookstore for as long as she can remember. And as she prepares for the store's grand opening, she's also realizing another dream—penning a cozy mystery set in England between the wars. While Samantha hires employees and fills the shelves with the latest mysteries, quick-witted Lady Penelope Marsh, long-overshadowed by her beautiful sister Daphne, refuses to lose the besotted Victor Carlston to her sibling's charms. When one of Daphne's suitors is murdered in a maze, Penelope steps in to solve the labyrinthine puzzle and win Victor.
 
But as Samantha indulges her imagination, the unimaginable happens in real life. A shady realtor turns up dead in her backyard, and the police suspect her—after all, the owner of a mystery bookstore might know a thing or two about murder. Aided by her feisty grandmother and an enthusiastic ensemble of colorful retirees, Samantha is determined to close the case before she opens her store. But will she live to conclude her own story when the killer has a revised ending in mind for her?
 
"You'll love this delightful debut mystery with its charming and wacky cast of characters and a mystery within a mystery just to keep things interesting."
—Victoria Thompson, bestselling author of Murder in Morningside Heights
 
"A charming read—with murder, romance and lots of mouthwatering desserts."
—Laura Levine, author of Death of a Bachelorette
About the Author
---
VM Burns is the Agatha Award-nominated author of screenplays, children's books, and cozy mysteries, including the Baker Street Mysteries, the Mystery Bookshop series, the Dog Club Mysteries, and the RJ Franklin Mysteries. Born and raised in South Bend, Indiana, she currently resides in Georgia just outside Chattanooga with her poodles. She is a member of Mystery Writers of America and a lifetime member of Sisters in Crime. She can be found online at VMBurns.com.