Tiny T. Rex and the Very Dark Dark: (Read-Aloud Family Books, Dinosaurs Kids Book About Fear of Darkness) (Hardcover)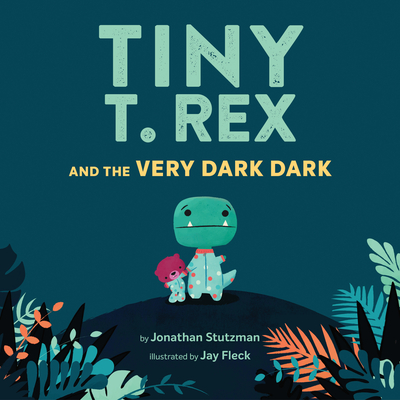 $15.99
Likely 2-7 Business Days; Some Exceptions
Description
---
The adorable and indomitable Tiny T. Rex from the critically acclaimed Tiny T. Rex and The Impossible Hug is back in a tale about friendship and overcoming your fears.

Tiny T. Rex and his friend Pointy are having a campout in the backyard! It is what best friends do. But without their nighty-lights, the dark outside suddenly seems VERY dark . . . and very full of spooky things. Good thing Tiny has a super-secret plan to keep the dark at bay! Full of warmth and plenty of laughs, this new adventure starring Tiny T. Rex shows that friends will always find a way to face their fears together—even when those fears are not what they seem!

• A great read-aloud book for parents and children
• Hip, colorful art and delightful text make Tiny T. Rex an instant favorite of any dinosaur-loving toddler.
• A perfect book to help toddlers and children overcome a fear of the dark

Fans of silly picture books like Dinosaur vs Bedtime, We Don't Eat Our Classmates, and Llama Destroys the World will love the sweet spirit and continuing adventures of Tiny T. Rex.

Meet Tiny T-Rex! He may be a small dino in a BIG world, but that won't stop him from making friends, conquering his fears, and stomping his way into your heart.

• Read-aloud books for ages 3–5
• Dinosaur picture books for kids
• Friendship books for toddlers
About the Author
---
Jonathan Stutzman is an award-winning filmmaker and writer. His short films have screened at film festivals all over the world and on television. He lives in Palmyra, Pennsylvania.

Jay Fleck is an Illinois-based designer and illustrator who has illustrated many books for children. He lives south of Chicago.
Praise For…
---
?
"[Tiny T. Rex and the Very Dark Dark] captures how many children feel about the dark. It's a great way to open up conversation about this issue and help them deal with it. The text is clear and appealing. Young listeners will enjoy the elaborate plans the friends go through to conquer their problem. A great read-aloud for little ones-and not just those who are afraid of the dark."-School Library Journal

"As in Tiny T. Rex and the Impossible Hug (2019), Fleck and Stutzman really bring the cute. Tiny's superserious narration carries the adorableness with ease. [Tiny T. Rex and the Very Dark Dark is assuring promise for timorous toddlers with special squishes of their own."-Kirkus Reviews

"[Tiny T. Rex and the Very Dark Dark] charmingly taps into a common childhood fear and offers playful solutions. There's not much to be afraid of in Fleck's blocky, glowing illustrations of the two pals, and readers with similar worries will soon find theirs alleviated."-Booklist

?
"[Tiny T. Rex and the Very Dark Dark] captures how many children feel about the dark. It's a great way to open up conversation about this issue and help them deal with it. The text is clear and appealing. Young listeners will enjoy the elaborate plans the friends go through to conquer their problem. A great read-aloud for little ones-and not just those who are afraid of the dark."-School Library Journal