Virtuosity - Bible Study for Teen Guys (Paperback)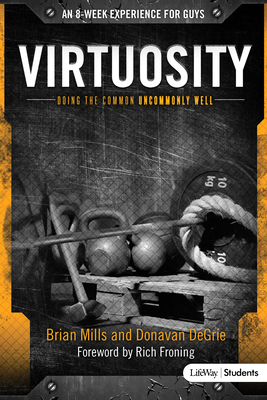 Not Currently Available- Email for More Information
Description
---
In Virtuosity, authors Brian Mills and Donavan DeGrie, call out young men to not settle for a life of spiritual complacency and mediocrity, but to strive for excellence. In this 8-week experience, guys will be exhorted to live lives that are set apart in the areas of humility, discipline, grace, and more. Includes a foreword by four-time CrossFit champion, Rich Froning.
Benefits:
Challenges guys to move out of mediocrity and passivity, to step up and take responsibility.
Continually pushes guys to value the Word of God.
Urges guys to be mentors and be mentored. Reminds them of their need to be accountable.
Resource can be used individually or in a group experience.
Features:
8 Sessions (40 day challenge)
Student book
Brian Mills is the Executive Ministries & Teaching Pastor at Englewood Baptist Church in Jackson, TN. Before taking the roll of Executive Pastor, he spent 14 years serving in full time student ministry. After graduating from Ouachita Baptist University he has led student ministries as small as 7 and as large as 2,000 students. He is currently a speaker and consultant for churches and ministries all over the United States. Brian is also the co-author of "Checkpoints - A Tactical Guide to Manhood". Brian is passionate about seeing people saved, baptized and grow in their faith along with equipping and leading the staff and volunteers where he is currently serving. He is married to Jennifer Mills, co-author of "Salvaging My Identity" and father to McKenna and Parker.
Donavan DeGrie is currently a CrossFit Seminar Staff instructor and employed by CrossFit Headquarters. His job includes traveling the world and teaching others the methodologies of CrossFit. As one of CrossFit's top coaches, he has the pleasure of instructing anywhere from 40-60 people about CrossFit every week. He has personally impacted thousands of lives through their health and fitness. Donavan enjoys being an ambassador for CrossFit and sharing the truth about how to live a healthy lifestyle. At the same time, Donavan understands that his greatest calling in this lifetime is to be an ambassador for Christ. "Therefore, we are ambassadors for Christ, God making his appeal through us. We implore you on behalf of Christ, be reconciled to God (2 Corinthians 5:20 ESV)." His passion for CrossFit and sharing God's truth has lead him to partner up with Brian Mills in writing Virtuosity. Donavan desires to use the opportunity that God has given him to help others through improving their fitness and when given the right opportunity to share the hope that he has found through Christ. Donavan's goal is to strive to do the "commonly uncommonly well" in every aspect of his life.