Murder Once Removed (Ancestry Detective #1) (Mass Market)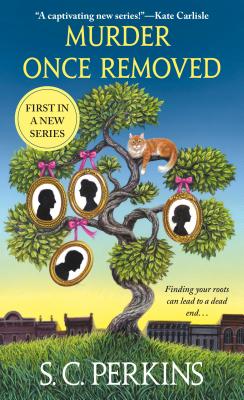 Description
---
The first mystery in the Ancestry Detective series by S.C. Perkins, in which a Texas genealogist deals with murders in the past and present.

"A terrific series debut!"—BookPage on Murder Once Removed
Except for a good taco, genealogist Lucy Lancaster loves nothing more than tracking down her clients' long-dead ancestors, and her job has never been so exciting as when she discovers a daguerreotype photograph and a journal proving Austin, Texas billionaire Gus Halloran's great-great-grandfather was murdered back in 1849. What's more, Lucy is able to tell Gus who was responsible for his ancestor's death. Or so it seems. . .
"A clever page-turner…from the first heart-stopping line to the final conclusion."—Carolyn Haines, USA Today bestselling author
Using clues from the journal, Lucy narrows the suspects down to two nineteenth-century Texans, one of whom is the ancestor of present-day U.S. senator Daniel Applewhite. But when Gus publicly outs the senator as the descendant of a murderer—with the accidental help of Lucy herself—and her former co-worker is murdered protecting the daguerreotype, Lucy will find that shaking the branches of some family trees proves them to be more twisted and dangerous than she ever thought possible.
About the Author
---
S. C. Perkins is a fifth-generation Texan who grew up hearing fascinating stories of her ancestry and eating lots of great Tex-Mex, both of which inspired the plot of her debut mystery novel. Murder Once Removed was the winner of the 2017 Malice Domestic Best First Traditional Mystery competition.
She resides in Houston and, when she's not writing or working at her day job, she's likely outside in the sun, on the beach, or riding horses.
Praise For…
---
"This debut features an intelligent genealogist detective, a strong supporting cast, some romantic tension, and information about Texas history that should appeal to readers of Rett MacPherson's genealogy mysteries as well as cozy lovers who prefer a dash of history in their mysteries."—Library Journal (Starred, Debut of the Month)
"[A] fun debut. Lucy's officemates and other quirky friends add spice to this delightful cozy. Readers will look forward to Lucy's further adventures."—Publishers Weekly
"A delightful debut spiced with a tempestuous romance and certain to appeal to fans of genealogical research and history."—Kirkus Reviews
"For mystery lovers of any generation, S.C. Perkins has penned a captivating new series that is equal parts dangerous and delightful, witty and well-plotted. Murder Once Removed has it all: a plucky heroine, effortless prose, and a healthy dose of Southern Charm, along with fascinating genealogical details, wonderful characters, and a multi-generational crime to solve. This is cozy crime fiction at its finest."—New York Times bestselling author Kate Carlisle
"An impressive Texas-sized dose of feisty heroine, smart whodunit, and entertaining debut, Murder Once Removed will have readers clamoring for the next Ancestry Detective Mystery."—Kay Finch, Author of the National Bestselling Bad Luck Cat Mysteries
"This debut mystery from S.C. Perkins is a delight! Chock full of Texas charm and tidbits about genealogy, it sparkles with humor, well-executed plot twists, and enduring friendships."—Kathy Krevat, nationally bestselling author
"Take an original cold case, a savvy "ancestry" detective, and a compelling new voice in cozy mysteries, and you have a home run from the talented pen of S.C. Perkins. From the first heart stopping line to the final conclusion, MURDER ONCE REMOVED is a clever page-turner. Tracing family lines can certainly be deadly—and oh, so much fun!"—Carolyn Haines, USA TODAY bestselling author of the Sarah Booth Delaney mystery series
"S.C. Perkins' Murder Once Removed is sure to be the belle of the ball. Perkins expertly weaves the past and present together as ancestry detective Lucy Lancaster traces an old bloodline that leads her into the heart of danger in the lone star state. Perfect porch reading. Pour yourself a glass of sweet tea and cozy up with this Texas gem that is sure to leave you hankering for more."—Ellie Alexander, author of the Bakeshop Mysteries
"A quirky-meets-clever who-dunnit ensues when genealogist Lucy Lancaster finds a 170-year-old photo and journal that crack a murder case from 1849."—Woman's World
"The way genealogy and historical research are featured in brilliant. This series will appeal to those interested in ancestry/genealogy research, and it even offers up a romantic mystery in the budding relationship between Lucy and the FBI agent."—Suspense Magazine
"Terrific...The Austin, Texas setting makes for a rich atmosphere and some rapturous descriptions of Tex-Mex food. Murder Once Removed kicks off this series with a bang. Here's to many more to come."—BookPage