The Tripods Attack!: The Young Chesterton Chronicles Book 1 (Paperback)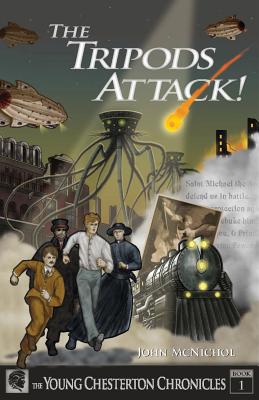 $25.58

Likely 2-7 Business Days; Some Exceptions
Description
---
Sixteen-year-old Gilbert Chesterton is orphaned and friendless, stuck working a menial job in grimy turn-of-the-century London. Then one night strange lights fill the sky and a hail of giant meteors crashes into a field outside the city. The next day Gilbert is amazed to find himself hired by a newspaper and rushed out to investigate the scene. Is it a harmless natural phenomenon, or the first wave of an alien invasion?
Gilbert soon learns he's not the only one asking that question, and he's joined by three strangers with their own interest in the fantastic events.
Herb Wells, a journalist for rival paper. Affable, streetwise, and self-confident, Herb's only too happy to teach young Gilbert the ways of the world. But when it comes to getting the story (and the fame), he warns it's every many for himself.
The Doctor, an enigmatic bearded man, is suave, cultured, and friendly--maybe too friendly. And he know things about the cosmic visitors . . . things no ordinary man should know. How much he's hiding is anybody's guess.
Father Brown, a short, mild, middle-aged priest with an extraordinary talent for solving mysteries. Gilbert doesn't know much about Christ or the Church, but Father Brown will teach him lessons of faith, love, and courage.
As Gilbert is drawn deeper in the threat of the mysterious tripods, he unveils a sinister conspiracy that may hold the key not only to the fate of mankind, but to his parents' violent and tragic death. And so, with only his friends, his wits, and a tattered holy card to help him, Gilbert must race to save the world--all the while struggling to reconcile his troubling past with his budding faith in God.