The Paris Architect (CD-Audio)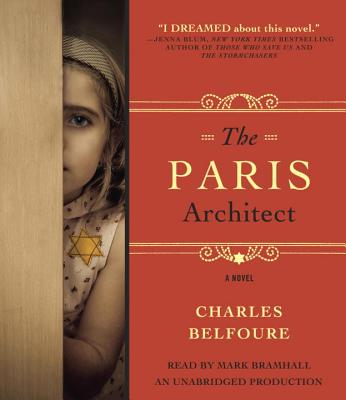 October 2013 Indie Next List
---
"In 1942, the city of Paris was overrun by German soldiers and security troops who were on the lookout for Jews. There were some Parisians who wanted to hide the Jews, and some who wanted to turn them in. In the middle was Lucien Bernard, one of the few men capable of assisting either side if he so chose. Lucien was an architect who built secret hiding spaces for Jews in old homes. He was also short on cash and willing to risk his life for the city he loved. When something went terribly wrong, Lucien was forced to rethink his dedication and come up with a way to make amends in this powerful and gripping story."
— Linda Bond, Auntie's Bookstore, Spokane, WA
Description
---
Like most gentiles in Nazi-occupied Paris, architect Lucien Bernard has little empathy for the Jews. So when a wealthy industrialist offers him a large sum of money to devise secret hiding places for Jews, Lucien struggles with the choice of risking his life for a cause he doesn't really believe in. Ultimately he can't resist the challenge and begins designing expertly concealed hiding spaces—behind a painting, within a column, or inside a drainpipe—detecting possibilities invisible to the average eye. But when one of his clever hiding spaces fails horribly and the immense suffering of Jews becomes incredibly personal, he can no longer deny reality.

Written by an expert whose knowledge imbues every word, this story becomes more gripping with every life the architect tries to save.
About the Author
---
Charles Belfoure is an author and architect who lives in Westminster, MD. A graduate of the Pratt Institute and Columbia University, his practice is in historic preservation working as both an architect and historic preservation consultant with a a specialty in historic tax credit consulting. He has written architectural histories including being the co-author of The Baltimore Rowhouse and Niernsee & Neilson, Architects of Baltimore, the author of Monuments to Money: The Architecture of American Banks, and Edmund Lind, Anglo-American Architect of Baltimore and the South. He was the recipient of a grant from the James Marston Fitch Charitable Foundation and the Graham Foundation. His books have won awards from the Maryland Historical Trust. The Paris Architect is his first novel.