Tigerman (Vintage Contemporaries) (Paperback)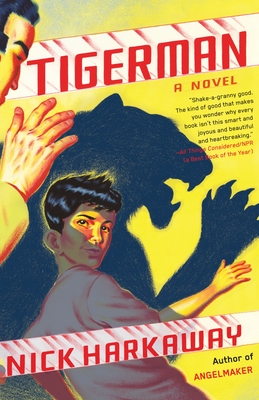 August 2014 Indie Next List
---
"Harkaway's books are known for their expansive, fantastical settings and narratives. With Tigerman he creates a quieter, but no less thrilling, novel. It's a story filled with geopolitical and criminal intrigue and escapades, but at its heart Tigerman is about the friendship between a man and the boy he befriends. This is a deeply emotional book, but with the narrative drive of pulp fiction novels. Extremely satisfying on all levels."
— Vladimir Verano, Third Place Books, Lake Forest Park, WA
Description
---
A KIRKUS REVIEWS and NPR BEST BOOK OF THE YEAR 
A WASHINGTON POST AND ALA NOTABLE BOOK

From the award-winning author of Angelmaker, Tigerman is a novel at once heartfelt and thrilling—about parenthood, friendship and secret identities, about heroes of both the super and the everyday kind.
 
Sergeant Lester Ferris is a good man in need of a rest. After a long career of being shot at, he's about to retire. The mildly larcenous, backwater island of Mancreu, a former British colony in legal limbo, belching toxic clouds of waste and facing imminent destruction by an international community afraid for their own safety, is the ideal place to serve out his time. There is an illicit Black Fleet lurking in the bay: spy stations, arms dealers, offshore hospitals, drug factories and torture centers. Lester's brief, however, is to sit tight and turn a blind eye, so he drinks tea and befriends a brilliant, Internet-addled street kid with a comic-book fixation. When Mancreu's fragile society erupts in violence, Lester must be more than just an observer: he has no choice but to rediscover the man of action he once was, and find out what kind of hero the island—and the boy—will need.


About the Author
---
Nick Harkaway is the author of two previous novels, The Gone-Away World and Angelmaker, and a nonfiction work about digital culture, The Blind Giant: Being Human in a Digital World. He is also a regular blogger for The Bookseller's FutureBook website. He lives in London with his wife, a human rights lawyer, and their two children.
Praise For…
---
"Graham Greene meets Lee Child in this dark caper about a soldier recuperating on a politically fraught tropical island."
     --Entertainment Weekly

Tigerman is an irresistible delight, something like Major Pettigrew's Last Stand as played by James Bond. . . . What really makes Tigerman roar is its captivating blend of tones—from the light hues of domestic comedy to the bold colors of Spider-man. And Harkaway doesn't stop there: Like some Marvel mad scientist, he has crossed strains of a modern-day environmental crisis with the sweet story of a veteran of the Afghan war trying to adopt a little boy. . . . [Tigerman] is ultimately no comic-book fantasy, just as a poisoned island is no paradise. You won't see the next punch coming."
     —Ron Charles, The Washington Post

"The kind of good that makes you wonder why every book isn't this smart and joyous and beautiful and heartbreaking; that makes you a little bit pissed off that you ever gave away bits of your life to reading worse books, and sad that so many trees get wasted on authors with less grace, less surety, less confidence than this man who can throw comic books, video games, post-colonial guilt, the longing ache of the childless, murder, tea drinking and mystical tigers all together in a big hat, shake it vigorously, and draw from the resultant, jumbled mess something so beautiful."
    —Jason Sheehan, All Things Considered, NPR

"This fantastic book deserves to be widely read and long remembered. . . . Harkaway writes with such a wonderful mix of humor, erudition, sensitivity and appreciation for a good bit of decidedly English fun."
     —Nicholas Mancusi, The Miami Herald

"Harkaway takes over where guys like Kurt Vonne­gut left off. He walks the line between reality and fantasy and writes with a charming cynicism. . . . [A] mad genius."
     —Andrew Blom, The Boston Herald
 
"[Tigerman] is, in short, awesome. Read it immediately. . . . Abundantly funny. . . . And incredibly moving, too. . . . For all that Tigerman seems to be about a superhero on the surface, appearances are deceiving indeed: Harkaway is markedly more interested in the relationship between Lester and his friend. . . . In Harkaway's hands, this friendship is as gripping as any mystery."
     —Niall Alexander, Tor.com

"A funny, touching and meditative page-turner that will leave you thinking about what it really means to be a hero for days after you've finished it."
     —Matthew Jackson, BookPage
 
"An adventurous romp of a thriller which, like [its] hero Ferris, at its core contains a bit of longing. . . . But rest assured, Tigerman is full of win."
     —Reader's Digest

"With his playfully erudite vocabulary and whizz-bang action plots, Harkaway, son of John le Carré and jiu jitsu practitioner, brings to mind the meaty thrills of Neal Stephenson. . . . [In Tigerman he] writes of an Afghanistan vet who ends up in a former tropical colony where he meets a young boy drunk on comic books. We're betting things get a little weird."
     —TimeOut Chicago, "14 Books You Must Read This Summer"

"Packed with sharp wit and quick humor. . . . Harkaway's novel offers big rewards: a world slightly skewed from our own, and yet still recognizable as the backdrop for a story that asks big questions about parenting, friendship, family, heroes and how to go on living when the world is ending. The resulting novel is a rollick of a read, packing emotion, hilarity and a dose of self-deprecation into a story that is, to borrow a phrase from Lester's young friend, 'full of win.'"
     —Kerry McHugh, Shelf Awareness
 
"A splendid book, literary fiction that defies genres as it tells a timely superhero story with intelligence and warmth."
     —Largehearted Boy

"Yet another bravura performance from a writer whose imagination knows no bounds. Nick Harkaway is at it again, celebrating pop culture, mixing genres like a mad scientist, and producing a book that is both profoundly moving and deliriously entertaining. . . .  [But] Harkaway throws a spanner in the comic-book works, adding depth and complexity to the mix, more Haruki Murakami than Stan Lee."
    —Bill Ott, Booklist (starred review)

"Brilliantly imagined. . . . A hoot and a half, and then some: hands down, the best island farce since Vonnegut's Cat's Cradle."
     —Kirkus Reviews (starred review)

"[A] poignant morality tale, equally fueled by emotion and adrenaline. . . . Adroitly explores the lengths one man will go to save what he's come to love, even in the face of almost-certain failure."
     --Publishers Weekly (starred review)


Advance Praise from the UK

"As much a homage to Graham Greene as to Stan Lee. . . . There are plenty of scrapes and escapades, lots of derring-do and derring-really-don't, building to a morally satisfying conclusion. . . . Through social media and the disconnection between inhabitants and governments, to the emotional difficulties of ex-servicemen and the way in which power is the display of power, Harkaway uses the story of a disappointed man and a disenfranchised boy to examine matters of real import. His great gift as a novelist—one he shares with writers such as China Miéville, Lauren Beukes and even Eleanor Catton—is to merge the pace, wit and clarity of the best 'popular' literature with the ambition, complexity and irony of the so-called 'literary' novel. Tigerman is in some ways all about the stripes: the distinctive becomes camouflage."
    —Stuart Kelly, The Guardian
 
"Will move you as powerfully as it will enthrall you. . . . 5 out of 5 stars."
     —Jenny Barlow, The Daily Express (UK)

"Astonishingly imaginative… Graham Greene would have treasured this book. . . . Outlandishly larger than life, with a cast of characters written in Technicolor…Nick Harkaway has all the writerly skills to pull it off. His Tigerman lives because of his wit and daring intelligence, and his empathy. Words quiver whenever he writes."
     —Tom Adair, The Scotsman
 
"Extraordinary. . . . The action sequences in Tigerman are some of Harkaway's best. As ever, the writing is economical but lively, revelling in modern idiom. . . . [Has] the cinematic scope and dynamism one has come to expect from Harkaway. . . . The ending of Tigerman is pitch-perfect, thrilling and dramatic."
     —Frank Brinkley, Literary Review (UK)
 
"A peculiar but winning combination of a Graham Greene-like end-of-empire tale and lots of Lee Child-style baddie bashing. . . . Full of fine descriptive passages and memorable figures."
     —John Dugdale, The Sunday Times
 
"Tedious is the last word you could use to describe [Harkaway's] writing…He tops his intellect in a ringmaster's hat. But for all the entertainment to be had from the reading, the serious stuff is in there…Harkaway is a writer who nests big ideas inside bigger ideas."
     —Teddy Jamieson, The Herald (Scotland)
 
"Uses politics in the service of outsized entertainment. . . . Harkaway mashes this [up] with a hyperactive, quite possibly deranged, apocalyptic imagination to produce novels whose mind-splitting pile-up of subplots usually involve various corrupt governments, a ninja or two and at least ten explosions."
     —Claire Allfree, Metro UK
 
"Often hilarious but with an undercurrent of dark violence . . . an impressive novel that conceals provocative questions inside an old-school tale of ripping adventure."
     —Saxon Bullock, SFX magazine

"A captivating and emotional real-world superhero tale."
     —Jack Parsons, SciFiNow
 
"As entertaining and imaginative as you'd hope. . . . Clever and confidently written. . . . A treasure chest of brilliant and barmy delights. The end of the story seems to come too soon and that's usually the mark of a great novel. Nick Harkaway takes the reader on a wild adventure and, though you know it's all fiction, there's a little part of you that wishes that Tigerman was actually real."
     —Natalie Xenos, CultureFly.co.uk