Ask Me No Questions: A Lady Dunbridge Mystery (Hardcover)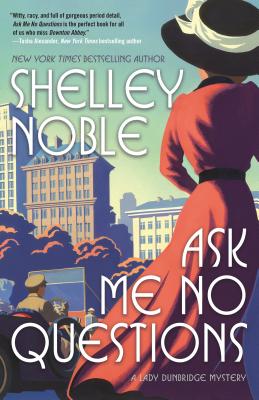 $25.99
Description
---
From New York Times bestselling author Shelley Noble, Ask Me No Questions is the first in the Lady Dunbridge Mystery series featuring a widow turned sleuth in turn-of-the-twentieth century New York City.
A modern woman in 1907, Lady Dunbridge is not about to let a little thing like the death of her husband ruin her social life. She's ready to take the dazzling world of Gilded Age Manhattan by storm.
From the decadence of high society balls to the underbelly of Belmont horse racing, romance, murder, and scandals abound. Someone simply must do something. And Lady Dunbridge is happy to oblige.
About the Author
---
SHELLEY NOBLE is the New York Times bestselling author of Beach Colors, a #1 nook bestseller. It is followed by Stargazey Point, Breakwater Bay, and Whisper Beach. A former professional dancer and choreographer, she most recently worked on the films, Mona Lisa Smile and The Game Plan. She has also published a series of cozies and two historical mysteries, the first of which was a finalist for both the RITA and Macavity Awards for historical fiction. Shelley is a member of Sisters-in-Crime, Mystery Writers of America, Romance Writers of America, and Liberty States Fiction Writers.
Praise For…
---
"Witty, racy, and full of gorgeous period detail, Ask Me No Questions is the perfect book for all of us who miss Downtown Abbey." —Tasha Alexander, NewYork Times bestselling author
"Told with wit and humor...a spirited and spunky addition to the ranks of aristocratic women sleuths of the early 20th century."—New York Times bestselling author Rhys Bowen
"Sparkles from start to finish!" —Tessa Arlen, author of the Lady Montfort mystery series
"Brimming with wit and rich historical detail...atmospheric and charming." —Chanel Cleeton, author of Next Year in Havana
"The many fascinating characters and historical details make this a thoroughly entertaining read. I can't wait for Lady Dunbridge's next adventure!" —Victoria Thompson, bestselling author of Murder in Union Square
"This first book in a new series is deftly plotted, well-researched, sharp with wit, and teases at the possibility of future romance. Highly intriguing and entertaining." —Anna Lee Huber, bestselling author of the Lady Darby Mysteries
"The book fairly flies along, whisking readers through Manhattan's champagne-sipping high life, with jaunts to the racetrack along the way. Classy, clever, and fun, this is a propitious start for dashing Lady Phil."—Publishers Weekly

"A saucy countess leaves English society behind when she ventures to New York City in 1907... This delightful series debut is a frisky combination of mystery and romance whose R-rated heroine clearly has a bright and adventurous future."—Kirkus Reviews