What Does the Constitution Say?: A Kid's Guide to How Our Democracy Works (Paperback)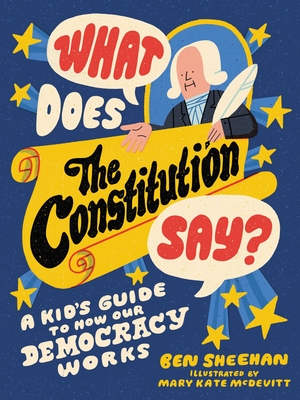 $19.99

In Store & Available (some exceptions)
Description
---
If you've never read the Constitution, let this guidebook help you! Featuring fun facts, cool illustrations, and even hilarious jokes, What Does the Constitution Say? will help you understand how our American government really works. 

Written more than 230 years ago, the Constitution can be hard to understand (even for adults). But it also gives you what you need to make our country the best it can be for everyone. What Does the Constitution Say? takes you on a tour of the whole Constitution while explaining what its fancy words really mean. From the Preamble to the 7 Articles to the 27 Amendments (so far), this fun-to-read guide is packed with bite-sized info, historic quotes, and graphics on important topics such as:
Why the Constitution is a "living document"
How the first attempt at a constitution (the Articles of Confederation) failed
What powers the president does (and doesn't) have
Key figures like James Madison, Alexander Hamilton, and George Washington
A bonus section on the Declaration of Independence
And much more!
About the Author
---
Ben Sheehan's civic education work has been featured by Good Morning America, the New York Times, and the National Archives. A former award-winning producer at Funny Or Die, he is one of The Hollywood Reporter's "NextGen: 35 Under 35" and also co-created Gerrymander Jewelry, a finalist for Fast Company's World Changing Ideas. He holds a B.A. with High Honors in Political Science and American Studies from Emory University.