The Collected Short Stories of Louis L'Amour: Unabridged Selections From The Frontier Stories, Volume 5 (Large Print / Paperback)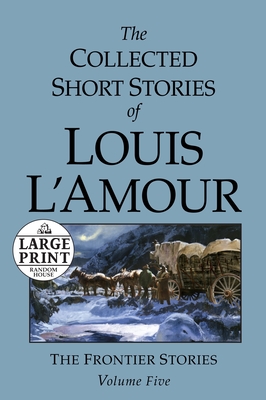 Not Currently Available- Email for More Information
Description
---
Louis L'Amour's world is built on those dramatic moments when men and women cast their fears, doubts, and pasts behind them and plunge into the unknown–into split-second decisions with life-and-death consequences. Nowhere is that more evident than in this latest collection of stories set on the American frontier. Here L'Amour takes us across a bold, beautifully rendered landscape where strangers may come to trust–or kill–one another; where old scores haunt new lives and the wrong choice leaves unwitting victims. Even at the best of times, this is a world in which every man and woman must be responsible for their own survival.

This keepsake volume features unforgettable moments and timeless characters. From fugitives to visionaries, from fortune seekers and drifters seeking a new life to young women trying to build homes in an all too often lawless world, the characters in these pulse-pounding stories are vintage L'Amour. Together in this vivid, rollicking collection of stories, they bring to life the American spirit and confirm Louis L'Amour's place at the very top of the pantheon of American writers.
About the Author
---
Our foremost storyteller of the American West, Louis L'Amour has thrilled a nation by chronicling the adventures of the brave men and woman who settled the frontier. There are more than three hundred million copies of his books in print around the world.