Hell Fire (Inspector Sejer Mysteries #12) (Paperback)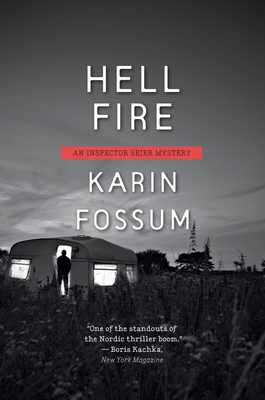 $19.04

Likely 2-7 Business Days; Some Exceptions
Other Books in Series
This is book number 12 in the Inspector Sejer Mysteries series.
Description
---
"A truly great writer and explorer of the human mind." — Jo Nesbø

"What grips readers is the enormous amount of emotion [Fossum] works up as we get closer and closer to reliving the murderous event in question . . . Hell Fire is close to heartbreaking, and there are not many novels, thrillers or otherwise, you can say that about." — Los Angeles Times
 
A gruesome tableau awaits Inspector Konrad Sejer in the oppressive summer heat: a woman and a young boy lay dead in a pool of blood near a dank trailer. The motivation behind the deaths of Bonnie Hayden and her five-year-old son, Simon, is mysterious—there is no sign of robbery. Who would brutally stab a defenseless woman and her child? In a parallel story, another mother, Mass Malthe, navigates life with her adult son, Eddie. It's a relationship some would call too close, since Eddie's father, a man he obsesses over, abandoned them many years ago. As Sejer searches for the truth behind the seemingly senseless killings, Hell Fire deftly probes why we lie to those closest to us, and what drives people to commit the most horrific of crimes.
 
"There's always something dark hovering on the edge of the page, something about getting what you wish for and the crushing irony when that gift proves your undoing." — New York Times Book Review
 
About the Author
---
KARIN FOSSUM is the author of the internationally successful Inspector Konrad Sejer crime series. Her recent honors include a Gumshoe Award and the Los Angeles Times Book Prize for mystery/thriller. She lives in Norway.
Praise For…
---
"What grips readers is the enormous amount of emotion [Fossum] works up as we get closer and closer to reliving the murderous event in question…Hell Fire is close to heartbreaking, and there are not many novels, thrillers, or otherwise, you can say that about."--Los Angeles Times "A masterfully-plotted police procedural with strong characterization."--Crime by the Book "Strong stuff...satisfying stuff."--Sullivan County Democrat "Fossum's superb 12th Inspector Sejer mystery (after 2015's The Drowned Boy) opens on a hot summer day in 2005. Inside a disused recreational vehicle, parked in a cluster of trees in rural Norway, lie the bodies of single mother Bonnie Hayden and her four-year-old son, Simon. "Evil incarnate had snuck across the field and stabbed them with a knife," Sejer muses as he examines the crime scene. Flashbacks to December 2004 show Bonnie, a generous woman who cleans the homes of the elderly and infirm, performing her menial duties with stoic dignity. These background scenes also focus on another single mother, Thomasine "Mass" Malthe, and her intelligent but odd 21-year-old son, Eddie, who has trouble dealing with the real world. Fossum explores many themes—most notably, the cruelties of fate—in what is less a police procedural than a portrait of a society in crisis. Few readers will be surprised by the murderer's identity, but the slow, deliberate revelation of the story behind the crime is dramatic and heartbreaking."--Publishers Weekly, STARRED —