Butts Are Everywhere (Hardcover)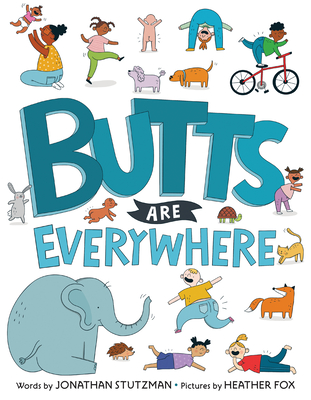 $16.99

In Store & Available (some exceptions)
Description
---
A triumphant celebration of the tushee.

Big ones, little ones, round ones and flat ones, furry ones and prickly ones--butts are everywhere, and each one is special! These powerful muscles make it possible for people and animals to jump, sit, and everything in between. The gluteus really is the maximus!

This funny, sweet, and commercial picture book celebrates one of our most useful (and hilarious) body parts, and is sure to become a favorite read-aloud for children and parents alike.
About the Author
---
Jonathan Stutzman is an award-winning independent filmmaker and writer of books for children. His short films have screened around the world and on television, and he is a contributing writer to the bestselling collection The Tiny Book of Tiny Stories and Emmy-winning variety show HitRecord on TV. When he isn't writing, Jonathan loves books, playing with his puppy, exploring, and watching old black and white movies. He is a staunch believer in the power of stories and the deliciousness of donuts. Jonathan lives in the wilds of Lancaster, Pennsylvania, and as you read this, he is probably writing something new.

Heather Fox is an illustrator of stories for children. Her art is filled with quirk and dashes of whimsy that is created in both doodle and digital forms. When she isn't creating, she is probably drinking a hot cup of coffee, eating Chinese food, or chasing down her dog (Sir Hugo) that has stolen one of her socks. Fox's books for children include The Elephant's Nose and Llama Destroys the World. She lives in Lancaster, Pennsylvania.
Praise For…
---
"Young readers will be happy to read and reread this dynamic data on their duffs." –Kirkus