Please Ignore Vera Dietz (Paperback)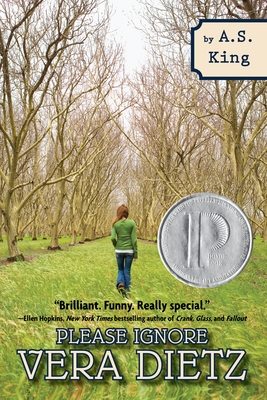 $10.99

In Store & Available (some exceptions)
Winter 2011 Kids' Next List
---
"Eighteen year old Vera has secrets, and one is about the death of her best friend, Charlie. A.S. King takes you on an enjoyable roller-coaster ride as you read about Vera and Charlie's rocky past and Vera's present day dilemma, and then brings you in for a smooth landing on your reading journey. A great teen read that delves into secrets and friendship."
— Sam Droke-Dickinson, Aaron's Books, Lititz, PA
Description
---
Vera's spent her whole life secretly in love with her best friend, Charlie Kahn. And over the years she's kept a lot of his secrets. Even after he betrayed her. Even after he ruined everything.
 
So when Charlie dies in dark circumstances, Vera knows a lot more than anyone—the kids at school, his family, even the police. But will she emerge to clear his name? Does she even want to?
 
Edgy and gripping, Please Ignore Vera Dietz is an unforgettable novel: smart, funny, dramatic, and always surprising.
About the Author
---
A.S. King is the award-winning author of young adult books including Reality Boy, Ask the Passengers, Everybody Sees the Ants, and The Dust of 100 Dogs. She has visited hundreds of schools to talk about empowerment, self-reliance and self-awareness. Find more at www.as-king.com.
Praise For…
---
Kirkus Reviews, starred review, September 15, 2010:
"A harrowing but ultimately redemptive tale of adolescent angst gone awry. Vera and Charlie are lifelong buddies whose relationship is sundered by high school and hormones; by the start of their senior year, the once-inseparable pair is estranged. In the aftermath of Charlie's sudden death, Vera is set adrift by grief, guilt and the uncomfortable realization that the people closest to her are still, in crucial ways, strangers. As with King's first novel, The Dust of 100 Dogs (2009), this is chilling and challenging stuff, but her prose here is richly detailed and wryly observant. The story unfolds through authentic dialogue and a nonlinear narrative that shifts fluidly among Vera's present perspective, flashbacks that illuminate the tragedies she's endured, brief and often humorous interpolations from "the dead kid," Vera's father and even the hilltop pagoda that overlooks their dead-end Pennsylvania town. The author depicts the journey to overcome a legacy of poverty, violence, addiction and ignorance as an arduous one, but Vera's path glimmers with grace and hope." (Fiction. 14 & up)

Publishers Weekly, starred review, October 11, 2010:
"Beginning with the funeral of Charlie Kahn, high school senior Vera's neighbor and former best friend, this chilling and darkly comedic novel offers a gradual unfolding of secrets about the troubled teenagers, their families, and their town. Though Charlie's death hangs heavily over Vera, she has the road ahead mapped out: pay her way through community college with her job delivering pizza while living "cheap" in her father's house. But first she has to face her fractured relationship with her father, a recovering alcoholic who worries about her drinking; the absence of her mother, who left six years earlier; and the knowledge that she could clear Charlie's suspected guilt in a crime. Vera is the primary narrator, though her father, Charlie (posthumously), and even the town's landmark pagoda contribute interludes as King (The Dust of 100 Dogs) shows how shame and silence can have risky--sometimes deadly--consequences. The book is deeply suspenseful and profoundly human as Vera, haunted by memories of Charlie and how their friendship disintegrated, struggles to find the courage to combat destructive forces, save herself, and bring justice to light." Ages 13–up. (Oct.)

Booklist, starred review, November 15, 2010:
"High-school senior Vera never expects her ex-best friend, Charlie, to haunt her after he dies, begging her to clear his name of a horrible accusation surrounding his death. But does Vera want to help him after what he did to her? Charlie's risky, compulsive behavior and brand-new bad-news pals proved to be his undoing, while Vera's mantra was always "Please Ignore Vera Dietz," as she strives, with Charlie's help, to keep a secret about her family private. But when Charlie betrays her, it is impossible to fend off her classmates' cruel attacks or isolate herself any longer. Vera's struggle to put Charlie and his besmirched name behind her are at the crux of this witty, thought-provoking novel, but nothing compares to the gorgeous unfurling of Vera's relationship with her father. Chapters titled "A Brief Word from Ken Dietz (Vera's Dad)" are surprising, heartfelt, and tragic; it's through Ken that readers see how quickly alcohol and compromised decision-making are destroying Vera's carefully constructed existence. Father and daughter wade gingerly through long-concealed emotions about Vera's mother's leaving the family, which proves to be the most powerful redemption story of the many found in King's arresting tale. Watching characters turn into the people they've long fought to avoid becoming is painful, but seeing them rise above it, reflect, and move on makes this title a worthy addition to any YA collection."

The Bulletin of the Center for Childrens Books, review, November 2010:
"The death of a best friend is hard enough, but for high-school senior Vera Dietz, her reaction to the death of Charlie Kahn is complicated by the fact that in the last few months he'd dumped her for the druggie pack at school, especially tough-girl Jenny. Flashbacks and compact commentary from Charlie himself, from Vera's straitlaced dad, and from an omniscient local landmark interweave with Vera's current narration, painting the picture of Vera and Charlie's close friendship and its recent souring and revealing that Vera is the guilty and troubled possessor of many secrets about her late friend. King offers a perceptive exploration of a particular kind of friendship, one where one friend is undergoing agonies beyond the power of the other to help. Vera's own troubles—her abandonment by her mother, the strictness and emotional evasion of her recovering-alcoholic father—get sympathetic treatment, but it's clear that Vera is loved and cared for in a way that Charlie, stuck in a poisonous, abusive home, simply wasn't. Yet it's Vera's life even more than Charlie's that's under scrutiny here, especially since Vera still has the possibility of making changes, both in her dealing with Charlie's memory and in her ongoing relationships. The writing is emotional yet unfussy, and Vera's tendency to see and perceive Charlie in every place and every thing is both effective and affecting. It's not uncommon for the dysfunction in one friend's life to start sowing seeds of doom for a friendship, and Vera's poignant take on her double loss will resonate with many readers."

VOYA, review, November 2010:
"It is hard to describe how deeply affecting this story is. Vera and Charlie are both the victims of extremely bad parenting, but that only scratches the surface of the novel. The writing is phenomenal, the characters unforgettable. The narrative weaves through the past and present, mostly from Vera's viewpoint but with telling asides from other characters. There is so much in here for young people to think about, presented authentically and without filters: drinking and its consequences; the social hierarchy of high school; civic responsibilities; and teens' decisions to accept or reject what their parents pass down to them. It is a gut-wrenching tale about family, friendship, destiny, the meaning of words, and self-discovery. It will glow in the reader for a long time after the reading, just like the neon red pagoda that watches over Vera and her world."