Tales From The Perilous Realm (Paperback)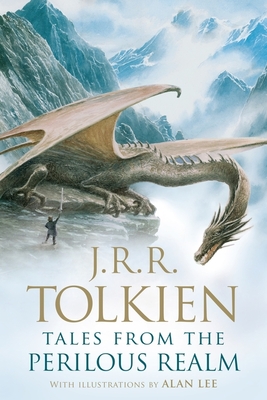 Description
---
The definitive collection of Tolkien's classic "fairie" tales, in the vein of The Hobbit, illustrated by Oscar winner Alan Lee.

The book is the perfect opportunity for fans of Middle-earth to enjoy some of Tolkien's often overlooked yet most creative storytelling. With dragons and sand sorcerers, sea monsters and hobbits, knights and dwarves, this collection contains all the classic elements for Tolkien buffs of all ages.

Roverandom is the story of a toy dog who becomes enchanted by a sand sorcerer. He gets to explore the world and encounter strange and fabulous creatures.

Farmer Giles of Ham is the tale of a fat, unheroic farmer who, having unwittingly managed to scare off a short-sighted giant, is called upon to do battle when the dragon Chrysophylax comes to town.

The Adventures of Tom Bombadil tells, in verse, of Tom's many adventures with hobbits, princesses, dwarves and trolls.

Smith of Wootton Major takes us on a journey to the Land of Faery, thanks to the magical ingredients of the Great Cake of the Feast of Good Children.

Leaf by Niggle recounts the strange adventures of the painter Niggle, who sets out to paint the perfect tree.
 
About the Author
---
J.R.R. TOLKIEN (1892–1973) is the creator of Middle-earth and author of such classic and extraordinary works of fiction as The Hobbit, The Lord of the Rings, and The Silmarillion. His books have been translated into more than fifty languages and have sold many millions of copies worldwide.
Praise For…
---
"Easily the most intriguing piece in the book is Tolkien's famous essay 'On Fairy Stories,' in which he lays out his beliefs about creating 'secondary worlds' and explores the history, power and importance of stories some demean as 'escapist.'…Tales From the Perilous Realm…reveals intriguing, little-known facets of Tolkien's vast imagination." –Daily Camera (Boulder)   —