The Little Old Lady Who Struck Lucky Again!: A Novel (League of Pensioners) (Paperback)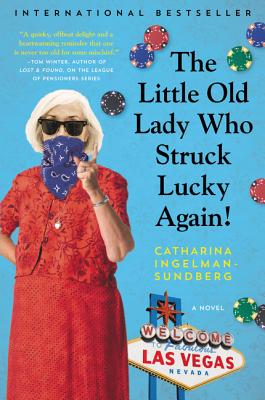 Other Books in Series
Description
---
In the sequel to internationally-bestselling Swedish author Catharina Ingelman-Sundberg's The Little Old Lady Who Broke All The Rules, the League of Pensioners are up to their old tricks, this time swindling the biggest Vegas casinos, outsmarting a gang of young robbers, and evading the Swedish police in the name of elderly pensioners everywhere—perfect for fans of A Man Called Ove and The Best Exotic Marigold Hotel.
What happens in Vegas stays in Vegas…unless you're in the League of Pensioners!

Martha Andersson and her friends are at it again. Having left behind their restrictive senior home in Stockholm, the gang is off to make it big in the bright lights and big money of The Strip. Armed with electric wheelchairs and some well-placed helium balloons, Martha, The Genius, The Rake, Christina, and Anna-Gretta are ready to take a Vegas casino for all it's worth, cashing in on their new favorite pastime: white collar crime.

But they aren't the only ones looking to outsmart Vegas security systems. The League finds itself inadvertently mired in a diamond robbery and face to face with a gang of young—but dangerous—criminals.

Working together they may have gotten the jewels and cash through airport security, but now that they're back home will they be able to outfox the robbers and keep the Swedish police at bay? Or will this be one heist too many for the League of Pensioners?

This clever, witty, and devilishly fun sequel to The Little Old Lady Who Broke All the Rules delights and probes by turns, and reminds us that we're never too old for a little mischief.


About the Author
---
CATHARINA INGELMAN-SUNDBERG
is the Swedish author of over nineteen books.
The Little Old Lady Who Broke All the Rules
sold more than 1.2 million copies internationally and was a #1 bestseller in Canada.
The Little Old Lady Strikes Again
and
The Little Old Lady Behaving Badly
are also national bestsellers.
Praise For…
---
"Instead of hyperbolic, mustache-twirling villains, Ingelman-Sundberg deftly orchestrates the foibles of real life... and captures the rebelliousness percolating just under the surface of ignored, shuffled away elderly folks. A merry, lighthearted caper." — Kirkus Reviews
"A comedy of errors, oversights and obstacles infuse Catharina Ingelman-Sundberg's clever U.S. debut, and the hilarious, escalating antics of a spirited cast of walker-dependent characters in their 70s and 80s will have readers of all ages rooting for their cause." — Shelf Awareness (starred review)
"A quirky, offbeat delight and a hear-warming reminder that one is never too old for some mischief." — Tom Winter, author of Lost & Found
"Reminded me of the more mischievous moments of One Flew Over the Cuckoo's Nest." — J.B. Morrison, author of The Extra Ordinary Life of Frank Derrick, Age 81