Tony's Wife: A Novel (Paperback)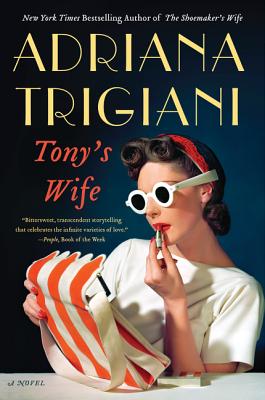 Description
---
"A heartfelt tale of love too stubborn to surrender to human frailties." — Kirkus Reviews
Set in the lush Big Band era of the 1940s, this spellbinding saga from beloved New York Times bestselling author Adriana Trigiani tells the story of two talented working class kids who marry and become a successful singing act, until time, temptation, and the responsibilities of home and family derail their dreams.
Shortly before World War II, Chi Chi Donatelli and Saverio Armandonada meet one summer on the Jersey shore and fall in love. Both are talented, and dream of becoming singers for the legendary orchestras of the time: Glenn Miller, Tommy Dorsey, Benny Goodman. They're soon married, and it isn't long before Chiara and Tony find that their careers are on the way up as they navigate the glamorous worlds of night clubs, radio, and television. All goes well until it becomes clear that they must make a choice: Which of them will put their ambitions aside to raise a family and which will pursue a career? And how will they cope with the impact that decision has on their lives and their marriage?
From the Jersey shore to Las Vegas to Hollywood, and the dance halls in between, this story is vivid with historical color and steeped in the popular music that serves as its score. Tony's Wife is a magnificent epic of life in a traditional Italian family undergoing seismic change in a fast paced, modern world. Filled with vivid, funny, and unforgettable characters, this richly human story showcases Adriana Trigiani's gifts as a storyteller and her deep understanding of family, love, and the pursuit of a dream.
About the Author
---
Adriana Trigiani is the New York Times bestselling author of eighteen books in fiction and nonfiction, published in 38 languages, making her one of the most sought after speakers in the world of books today. Adriana is an award-winning playwright, and writer/director in film and television. Adriana co-founded The Origin Project, an in-school writing program which serves over 1,700 students in the Appalachian Mountains of Virginia. Adriana hosts a weekly Facebook Live show, Adriana Ink, every Tuesday evening at 6 PM EST featuring guest authors, giveaways and more. Follow along with Adriana on Facebook and Instagram @AdrianaTrigiani. Adriana lives in New York City with her family.
Praise For…
---
"Trigiani's latest is bittersweet, transcendent storytelling that celebrates the infinite varieties of love."  — People, Book of the Week
"...Tony's Wife is an immersive experience, with well- rounded, warm characters, pre-WWII fashion, Jersey accents, and homemade pasta. Moving and delightful."  — Booklist
"Trigiani's ability to draw characters with such authenticity is undoubtedly enriched by her own background in a large traditional Italian-American family. It's clear she knows and loves this world. Her affection for even the most flawed characters shines through."  — USA Today
"Trigiani...fills this novel with the musical delights of the big band era and a love that lasts a lifetime ... Packed with melodies, memories, humor, and love and loss, this effortlessly plotted novel is an emotional page-turner." — Publishers Weekly
"A heartfelt tale of love too stubborn to surrender to human frailties." — Kirkus Reviews
"Tony's Wife is a bit of a misnomer, as the strength of the book is Chi Chi's story, but Trigiani is the master of writing complex Italian families, full of characters who love and live with passionate (and sometimes fractured) hearts ... Trigiani delivers another solid historical saga, and her readers will be pleased." — Library Journal
"[Trigiani] expertly draws from her multilayered experience with ease, making the story both charming and authentic.... If you like Chi Chi, you will adore this unforgettable book." — Book Reporter
"For Adri-addicts and newcomers alike, Kiss Carlo is a delightfully retro read.... At a time when crass seems to trump class in popular culture, Kiss Carlo may be just what we need, a warmhearted romp that's a welcome escape from novels about girls who are gone/on a train/tattooed...an incredibly satisfying dish to dig into. Three and a half out of four stars." — USA Today
"A world of warm, lively characters whose charming idiosyncrasies lead them to collide and ricochet along the way to love.... A delightfully sprawling comedy full of extended families." — Kirkus Reviews