Don't Sing at the Table: Life Lessons from My Grandmothers (Paperback)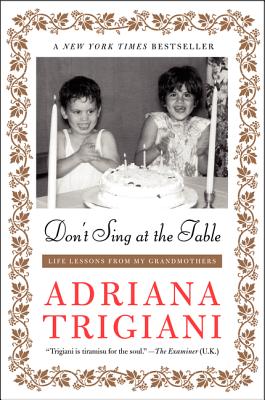 Not Currently Available- Email for More Information
Description
---
Instant New York Times Bestseller
"No one ever reads just one of Trigiani's wonderfully quirky tales. Once you pick up the first, you are hooked." —BookPage
New York Times bestselling author Adriana Trigiani shares a treasure trove of insight and guidance from her two grandmothers: time-tested, common sense advice on the most important aspects of a woman's life, from childhood to the golden years. Seamlessly blending anecdote with life lesson, Don't Sing at the Table tells the two vibrant women's real-life stories—how they fell in love, nurtured their marriages, balanced raising children with being savvy businesswomen, and reinvented themselves with each new decade. For readers of Big Stone Gap, Very Valentine, Lucia, Lucia, and Rococo, this loving memoir is the Trigiani family recipe for chicken soup for the soul.
About the Author
---
Beloved by millions of readers around the world for her "dazzling" novels (USA Today), Adriana Trigiani is "a master of palpable and visual detail" (Washington Post) and "a comedy writer with a heart of gold" (New York Times). She is the New York Times bestselling author of twenty books of fiction and nonfiction, including her latest, The Good Left Undone- an instant New York Times best seller, Book of the Month pick and People's Book of the Week. Her work is published in 38 languages around the world. An award-winning playwright, television writer/producer and filmmaker, Adriana's screen credits include writer/director of the major motion picture of her debut novel, Big Stone Gap, the adaptation of her novel Very Valentine and director of Then Came You. Adriana grew up in the Blue Ridge Mountains of Virginia where she co-founded The Origin Project, an in-school writing program serving over 1,700 students in Appalachia. She is at work on her next novel for Dutton at Penguin Random House. 
Follow Adriana on Facebook and Instagram @AdrianaTrigiani and on TikTok @AdrianaTrigianiAuthor or visit her website: AdrianaTrigiani.com. 
Join Adriana's Facebook LIVE show, Adriana Ink, in conversation with the world's greatest authors- Tuesdays at 3 PM EST! For more from Adriana's interviews, you can subscribe to her Meta "Bulletin" column, Adriana Spills the Ink: adrianatrigiani.bulletin.com/subscribe.
Praise For…
---
"Best-selling author Trigiani (Very Valentine) presents a loving paean to her Italian grandmothers... there is much warmth in these remembrances that will resonate with readers who enjoyed strong relationships with their own grandparents and know the value they can bring to our lives." — Library Journal
"[C]harming… comforting lessons for readers seeking a simpler way of life." — Kirkus Reviews
"Soothingly and with clarity…. Readers will find her strength and optimism helpful, and her legions of loyal fans will enjoy learning more about the women who influenced, inspired, and, according to Trigiani, made possible some of her best-selling fiction." — Booklist
"Trigiani combines family and American history, reflections on lives well-lived, and sound advice to excellent effect, as a legacy to her daughter and a remembrance of two inimitable women." — Publishers Weekly
"One of the reigning queens of women's fiction." — USA Today
"Delightful, energetic. . . . Trigiani is a seemingly effortless storyteller." — Boston Globe
"Trigiani has certainly not lost her ability to breathe life into everything she writes." — Roanoke Times
"Well crafted work with sometime lyrical, sometimes flat-out-funny writing." — Fort Worth Star-Telegram
"Adriana Trigiani listens to her readers, then gives them what they want. " — Richmond Times-Dispatch
"Dazzling." — USA Today